Not that long ago, Twitter was the darling of both Silicon Valley and Wall Street.
Now, people are writing eulogies for the service and claiming that it will be crushed by its rival Facebook. (OK, that last one was me.) Last week, shares in the real-time social media company closed at their lowest level on the public markets since listing. They're still above the IPO price of $26—which is the actual price the company sold its stock at to big institutional investors—but they've fallen nearly 50% from their peak in December, and around 40% so far this year.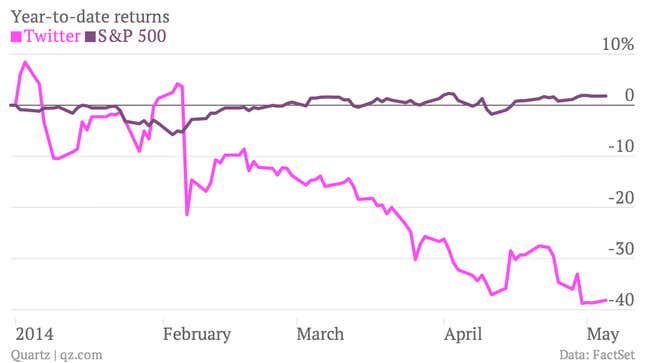 And it could get worse before it gets better—for reasons that have nothing to do with the company's actual performance. Today, the "lockup period" expires, which means employees that were awarded shares in the company as a part of their compensation and early investors who are large stock owners will finally be allowed to sell their shares tomorrow.
There are plenty of those. According to regulatory filings, around 87% of the company's shares were in lockup at the time of its IPO. A small portion were made available for sale in February, and the rest will be available for sale this week.
Investors have known this is coming for a while, so at least some of the impact of lockup expiry should, in theory, already be priced in. Also, to signal their long-term confidence in the company, Twitter CEO Dick Costolo and co-founders Jack Dorsey and Ev Williams last month took the unusual step of saying they had no intention of selling any of their shares. Chris Sacca, an early Twitter investor, told Bloomberg that he also plans to hold onto the 15 percent of the company's shares that he manages through various arrangements.
It's tempting to see sales following the lockup expiration as a referendum on Twitter among the company's employees. But it may not actually be that telling. Whether or not employees have confidence in their company, it will still be tempting for them to cash in, because to many of them the expiration of the lockup period turns stock-based compensation—some of which they have held for years—into actual money. "All of this stock that didn't mean anything before, all of a sudden has value,"  Adam Nash, chief operating officer of the wealth advisory startup Wealthfront told Quartz earlier this year. 
An analysis of 254 tech IPOs between 2001 and 2011 by Wealthfront found that volumes typically surge (see below) on the day following lockup expiry, while the average return is a decline of 1.15%, compared to a flat return for the broader market. So don't be surprised to see that happen with Twitter stock.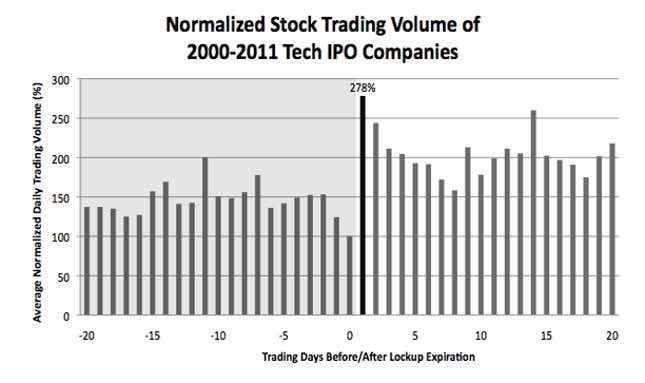 That shouldn't be taken as a judgement on the company's long-term prospects though. Don't forget, Facebook shares hit their lowest levels about a month after its lockup period expired, and the narrative surrounding that company has changed considerably since then.  At the time, people were concerned about Facebook's ability to navigate the transition to mobile. Now, it has more than 1 billion monthly users on mobile devices, and makes much more money from them than it does from desktop users.
At the moment, the narrative surrounding Twitter is that its user base is too small and not growing quickly enough. But Will Ormeus at Slate has a compelling argument about how Twitter can actually get bigger by monetizing its "vast indirect audience." Twitter has 255 million active users, but many more people are aware of the service and encounter it on a daily basis (think of all those embedded Tweets in online articles).
He argues that by making its homepage more accessible to non-registered users, like YouTube does, Twitter could capture many more users. And by placing ads into embedded tweets (like YouTube does with embedded videos) it might also be able to monetize them.