In the US, 76% of surveyed adult full-time employees, spanning all levels of seniority, reported at least one symptom of a mental health condition in 2021, up from 59% in 2019. The stress of the pandemic has worsened this crisis; a recent JAMA survey suggests that the prevalence of depression symptoms among American adults tripled during the pandemic. Young people are struggling, too. A 2021 study of kids and teens found that one in four have depression, and one in five have anxiety. 
The societal price of this suffering is steep. The International Journal of Health & Productivity concluded in 2018 that mental health conditions are the world's biggest cause of lost productivity. And the World Economic Forum has warned that by 2030, the global costs of mental health conditions will exceed $6 trillion. Clearly, mental health isn't just a personal issue; it needs to be treated as a business priority.
For companies, that means going beyond one-time events and developing systems that can provide comprehensive support. In fact, a 2021 Aon Global Wellbeing Survey showed that 87% of global companies have wellness initiatives, but only 55% have a wellbeing strategy integrated across their culture, talent, and performance objectives. 
Defining appropriate key performance indicators (KPIs) to track progress and allowing leaders to identify areas for improvement is a vital part to making mental health an ongoing strategy. "In this new era of work, it is time to put the same rigor behind mental health services as we do for physical health," says Jimmy Etheredge, CEO Accenture, North America. "That means mental health benefits – which we know to be the most requested employee benefit – need to be on par with health benefits, paid leave, retirement savings – the whole package. Then we need to measure and take a look at the insight behind what's working so we can gauge psychological safety. Not only is this good for employees, but it can be a competitive advantage for companies when it comes to recruiting and retaining talent." As organizations shape their ESG strategies, decision-makers should discuss ways to include mental health metrics and goals. The payoff can be significant: a 2016 Lancet report found that for every $1 invested in evidence-based mental health programs, employers can save $2 to $4 on other expenses.
Here, six experts, executives, and advocates share the most important steps every leader can take to meet employees' mental health needs—and their own.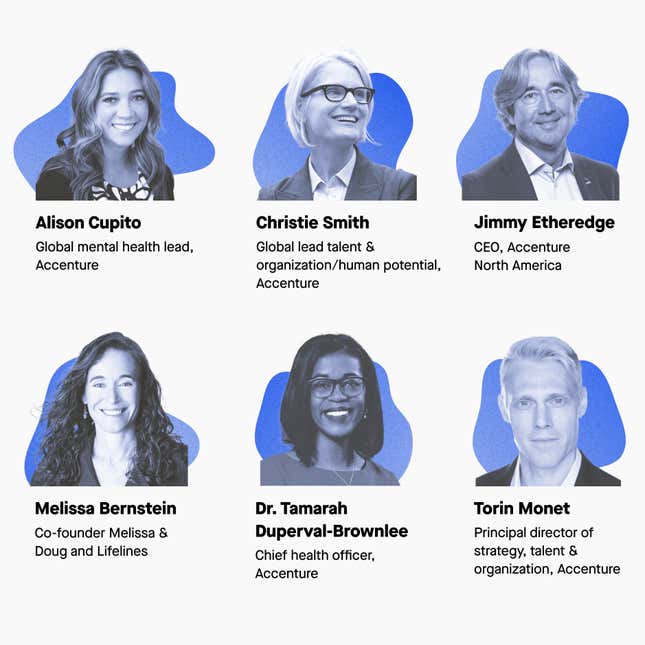 Prioritize trust and safety
According to Torin Monet, principal director of strategy, talent & organization at Accenture, any discussion about mental health at work needs to start with psychological safety—that is, a sense of security and belonging that lets people speak up without fear. "When there is no psychological safety in the workplace, then people suffer trauma," he explains. "As a result, productivity, and, implicitly, revenue decrease; innovation and performance drop. This translates into costs to the individual—such as health problems, poor decision quality, low satisfaction—but also into significant costs to the company."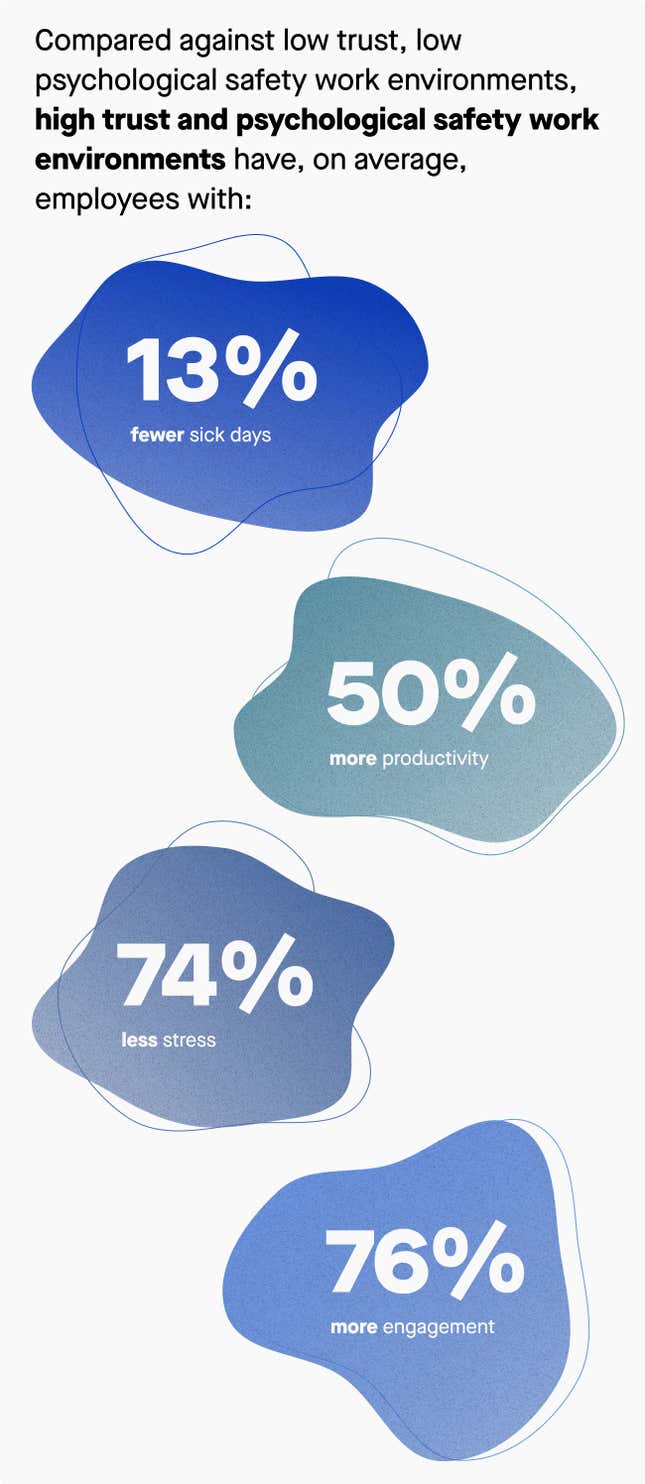 So, what factors contribute to psychological safety? Accenture's 2020 Care to Do Better report identified six fundamental needs—dubbed the Net Better Off framework—that employers must meet in order for people to be their best, fullest selves on the job. These include emotional and mental wellness, physical health, financial stability, training and growth opportunities, strong personal relationships, and a clear purpose.

Accenture's researchers discovered that 64% of employees' potential (defined as the ability to use their strengths and skills at work) is influenced by whether or not they feel better off across these six dimensions. Conversely, less than 9% of potential was linked to education, tenure, and industry. A second Accenture study, Better to Belong 2021, found that when workers are "net better off," they are twice as likely to feel they belong at work.
By investing in the elements of the Net Better Off framework and measuring their outcomes, organizations can deepen trust with employees, leading to long-term improvements in both overall mental health and business performance. Accenture identified five specific practices that help leaders make this happen:
Facilitating continuous learning, with an eye toward future skills
Creating communication channels that let employees voice their day-to-day needs
Using technology to enable flexible work
Developing initiatives that promote inclusivity and equality, as well as employees' health and psychological well-being
Holding the organization accountable by sharing key people metrics like diversity targets and results
 Check your benefits
Thanks to the Mental Health Parity and Addiction Equity Act of 2008, most US employer insurance plans are required to provide mental health coverage that's comparable to physical health coverage. The Affordable Care Act expanded on this, bringing parity protections to plans in the individual and small group markets. But, as The New York Times reported in 2021, some plans still have loopholes that make mental health care prohibitively expensive. 
Even for the insured, cost can be a barrier to treatment. A 2021 Kaiser Family Foundation survey found that 32% of Americans whose mental health declined during the pandemic did not get help. Of these, 10% said they had problems with their insurance coverage, and 23% said they avoided treatment because they couldn't afford it. These issues are worsening systemic inequalities: The two groups most likely to forgo treatment were women with children and Black adults.

The US Department of Labor maintains a list of resources for employers who want to verify if their company's plan is in compliance with parity law. Business leaders can also direct benefits administrators to review plans for pitfalls like limited provider networks, low out-of-network reimbursement rates, and complicated preauthorization requirements. Finally, when it's open enrollment time, be sure employees receive detailed information about their mental health care options.
Normalize conversations about mental health
Accenture recently asked 600 CEOs, "What, in your mind, do you need to be focused on coming out of this pandemic?" And the majority of CEOs said, "Transparency, empathy, and building trust in their organizations," explains Christie Smith, global lead of talent & organization/human potential at Accenture. 
"When we focus on those areas and emphasize the relationships with one another, not just clients or customers, but with one another, we create that safe space. And cultures are being defined as 'safe spaces,' rather than by providing ping pong tables and espresso machines. And that's a really important shift that I think many companies have made." 
In a 2021 MindShare Partners study, employees cited "an open culture about mental health" as the top mental wellness resource they wanted employers to provide. Leaders can set the tone by sharing their own stories, sending signals that honesty is valued, not judged. But first, they may have to overcome their own fears about appearing vulnerable in the workplace. 
Good news: A 2020 Harvard Business Review report describes authenticity and empathy as forms of "leadership capital" that build organizational trust without diminishing authority. "Programs and initiatives are great, but nothing, nothing beats telling your own personal story. We know that when leaders can share the experiences that they've had openly and with greater vulnerability, employees feel more sense of connection and belonging and again, the harmony becomes real in a company," continues Smith.
Making it possible for people to speak freely also allows businesses to collect sensitive metrics, like self-reported stress levels and participation in mental health programs. This sets the stage for improving overall performance management, too, especially now that workplace burnout is on the rise. Accenture's Great Marketing Declutter study found that almost 70% of marketing executives say the past year has "completely exhausted" their employees. Unless people feel empowered to talk about their struggles at work, leaders won't know what's wrong and won't be able to develop effective solutions.
Another way to start conversations is by amplifying voices that highlight ways in which professional success and mental health aren't incompatible. Want proof? A 2019 Accenture survey of workers in the UK revealed that 53% of respondents felt more willing to discuss their mental health after hearing high-profile individuals open up. 
Melissa Bernstein, co-founder of toy company Melissa & Doug, made the decision to go public with her story. From the outside, Bernstein had it all: She and her husband Doug built a billion-dollar business while raising six kids. But ever since she could remember, she had been hiding who she was, including her struggles with depression and anxiety. "I was in utter denial of everything I experienced and felt," she said in a 2021 interview. "The idea of admitting I was imperfect, flawed, and needed help was inconceivable."
Now, Bernstein has created Lifelines, a set of tools designed to help people strengthen resilience, unlock potential, and discover more about themselves. Along the way, Bernstein says, she's heard from people who say her story empowered them to be more open. "I have seen, now that I have done it, that it's really given so many others the permission to do it themselves."
But speaking up is just one aspect of normalizing these critical conversations. "The most important way to support people is by listening," says Accenture's chief health officer Dr. Tamarah Duperval-Brownlee. "If you listen, then you're able to meet people's needs. We want to make sure our people feel they're part of a community, that they feel supported and valued."
Forge alliances
Fostering opportunities for allyship raises awareness and fights stigmas in direct, measurable ways. An employee resource group is one option; businesses can also take the National Alliance on Mental Illness's StigmaFree pledge to receive ideas for employee engagement activities.
At Accenture, a unique initiative called the Mental Health Ally Network has grown to include more than 9,500 people in 50+ countries. Employee volunteers are trained to help colleagues access mental health resources, and by openly identifying as allies, they let coworkers know they're available anytime for private conversation, empathy, and support. The goal is to meet people where they are and provide different outlets so employees know they have the space to talk because not everyone is comfortable speaking with their supervisor or HR.
Leverage technology to improve access to care
The pandemic required most offices to go remote, and now organizations are taking advantage of virtual tools to expand employees' mental health care options. "I think a silver lining of the pandemic is the fact that we're going to see more use of technology for mental health support and treatments," says Accenture North America CEO Jimmy Etheredge in a recent Change Conversations episode.
Access to mental health services was difficult even before the pandemic, and in today's world filled with so many challenges, a system over capacity, and a shortage of mental health providers, access to care is an issue for many. "Telehealth can help," adds Etheredge. "Now, as people are more accustomed to video calls, they see value in teleconsults, which make it possible to connect therapists with more people who need the help."
Research indicates that virtual counseling may start playing out on a much larger scale. A 2020 Accenture report found that 81% of people with a mental health condition "definitely" or "probably" would be willing to access care through a digital tool. It also estimates that virtual health channels could expand behavioral health services to 53 million Americans.
These days, business leaders have a wide range of digital mental health care options to choose from. At Accenture, employees can take mental health essentials training, developed by our learning team, through the firm's online learning platform. They also have access to virtual therapy apps such as Calm, Wysa, Talkspace or Thrive and have access to Thriving Mind, a self-directed mental well-being program created by Thrive Global and brain researchers at Stanford Medicine.
Apps like Calm and Wysa can also supplement professional therapy by making mindfulness and stress relief available anytime, anywhere. Alison Cupito, Accenture's global mental health lead, says that after adding Calm to the firm's roster of free wellness resources in early 2021, more than 30,000 employees signed up. Additionally, Wysa, an anonymous AI (artificial intelligence) chatbot that lets you talk about whatever is on your mind, connects more than 56,000 Accenture employees globally directly to their EAP (Employee Assistance Program) services in real time.
"Calm and Wysa have really helped fill a gap where an employee's local benefits package couldn't," Cupito explains. "If you're not physically and mentally well, then you're not going to bring your best self to work, so it's incredibly valuable. You get the best out of people when they're taking care of themselves."


Listen in to hear more from leaders who are transforming the workplace and subscribe to
.