Telecom operators across the world complain that free messaging apps such as WhatsApp and internet-based calling services like Skype and Viber are eating into their margins. But what if those same services could help telcos grow their margins instead? That could very well be the case in India, reckons Morgan Stanley.
Indian mobile carriers operate on razor-thin margins, claiming an average revenue per user (ARPU, an industry metric) per month of just $2.60. By contrast, Chinese operators make $9.60 per user per month, Korean ones boast an ARPU of $32.40 and Australian carriers rake in $38.50.
But that may be about to change. In the past year, data use and revenues from data across the big four Indian networks have doubled even as the average price of data has dropped 15%. Indians are getting online fast and their appetite for data is growing at a ferocious pace.
As more Indians get their hands on smartphones, they will be increasingly tempted to use data plans because of the cost difference between voice and data is negligible. One megabyte of data costs 83% as much as one minute of talk time in India, a far narrower gap than its Asian peers, where data costs on average 35% of voice.That's not because data is expensive in India, but because voice is already so cheap (rates average 0.60 US cents per minute).
Analysts at Morgan Stanley ran the numbers and figured out how data consumption and revenues from Skype calling would compare to regular video calling. The results are encouraging. As phones get better and more people start to use high-quality video calling, operators will make more money from subscribers who use Skype for these calls than from plain voice calls over the network. (Besides, unlike phone calls, where only one party pays, both sides consume data when it comes to internet-based calling.)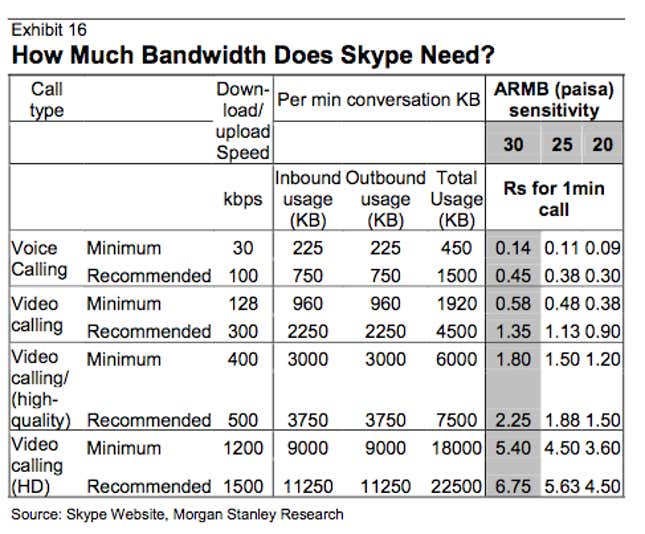 The same applies to messaging. While plain old text-messaging may not be dramatically different, WhatsApp allows people to much more easily share pictures and videos, which also means more data consumed by both senders and receivers, and more revenue.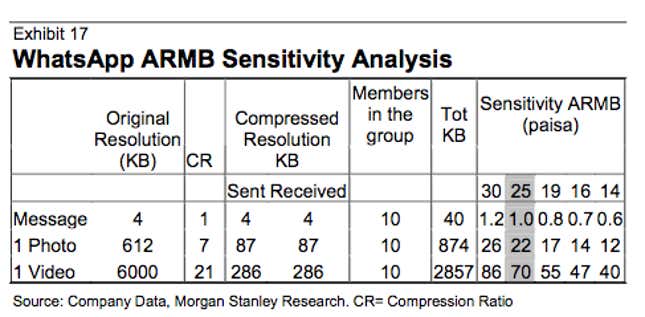 And there there's music. Some 34% of Indians listen to music on their mobile phones, compared with 17% of users globally. Bollywood movies and their songs are hugely popular in India, and are a cornerstone of the mobile industry's plan to sell data. Indeed, music and video alone contribute 68% of all mobile data usage in India.
Some 90% of Indian Indian internet users get online using mobile phones. But that number still represents only 15% of India's 1.2 billion population, suggesting plenty of room for growth, specially as ever cheaper devices, such as Mozilla's upcoming $25 smartphone (paywall), enter the market. And each subscriber will also use more and more data, rising 35% annually until 2018, reckons Morgan Stanley.