If you're American, feeling financially strapped, and in New York City next week, you might want to stop by Central Park's Boathouse restaurant.
There, Chinese businessman Chen Guangbiao, who made his fortune in recycling but is better known for his philanthropic publicity stunts, thwarted plan to buy The New York Times, and this completely over the top business card, plans to host 1,000 "poor and destitute" US citizens to lunch, and then give them each $300.
In an advertisement placed in The New York Times on Monday, Chen promised the June 25 luncheon would be a continuation of his plan to "fill the world with love," through charity, and compared himself to Lei Feng, a selfless People's Liberation Army soldier and philanthropist. He also promised in a later interview to sing "We are the world" (in English) during the lunch. Here's the ad, courtesy of jimromanesko.com: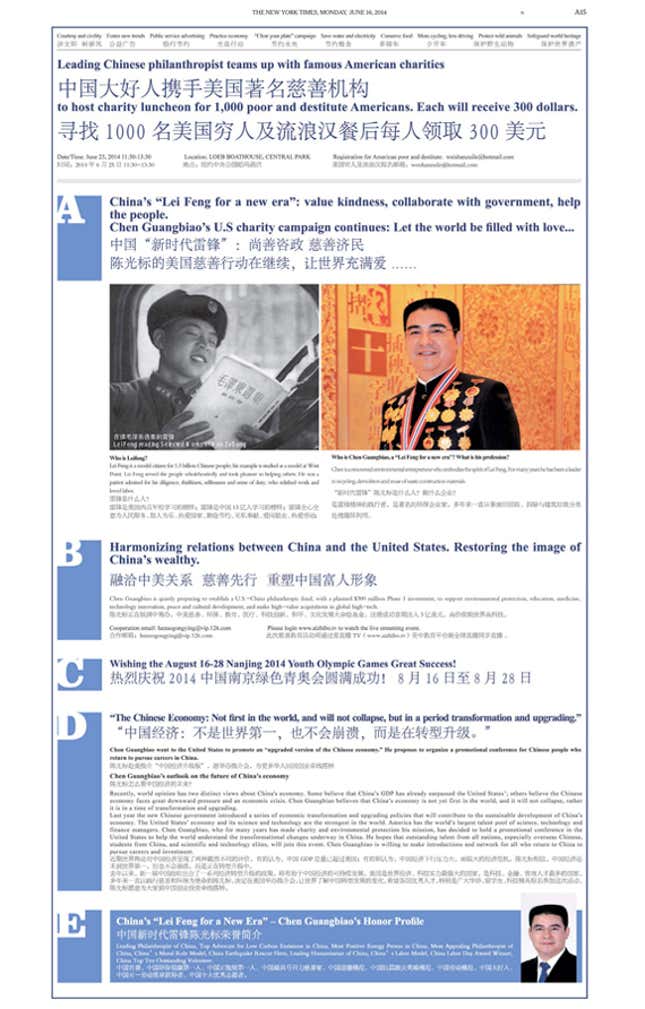 Chen is trying to spread a message to the US that there's more to China's wealthy than corruption and luxury goods, while spurring other rich people in China to do some good, he said. "There are many wealthy Chinese billionaires, but most of them gained their wealth from market speculation and colluding with government officials while destroying the environment," Chen said, explaining the lunch to the South China Morning Post.
Chen's planned luncheon (at a restaurant where "fish and chips" costs $26 and a bread basket is $12) may go down like a lead balloon, if it happens at all. While New York City's poverty rates are rising, and nearly half the city lives at near-poverty levels (pdf), it is unclear how many New Yorkers want to be involved in a wealthy foreigner's publicity stunt. His well-publicized plans have fallen apart before—particularly the push to buy the New York Times, which never got off the ground after a shareholder meeting he thought he had never materialized.
If you do want to attend the luncheon, however, you need to RSVP, to a hotmail address provided in the advertisement: weishanzuile@hotmail.com.
Cathy Sizhao Yi contributed reporting.