More and more Americans are watching soccer and more and more advertisers have noticed. During the first week of the World Cup four of the top 10 advertisers during game coverage in the US were not regular TV sports advertisers in 2013, according to Kantar Media ad tracking data.
The rum-maker Bacardi, wireless-carrier Cricket, sporting-goods-manufacturer Adidas, and antiperspirant-maker Degree all appear to see the World Cup as a marketing opportunity.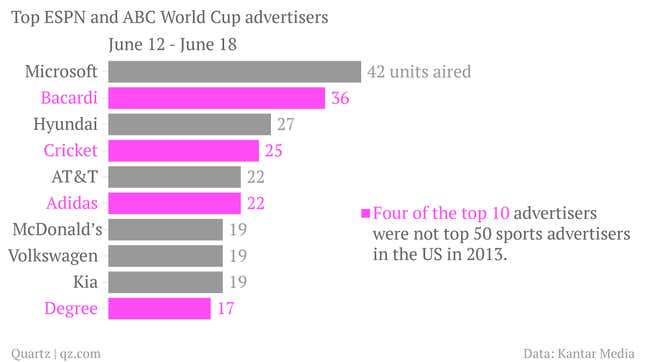 The top 50 US TV sports advertisers in 2013 accounted for about half of all advertising during televised sports in the US.
On Univision, a US Spanish-language broadcaster, Nike, Hyundai, and JC Penney are the new entrants to the top of the soccer ads charts. None of them was a sponsor of Univision soccer programming in 2013, but they all are top 10 advertisers on the network so far during the World Cup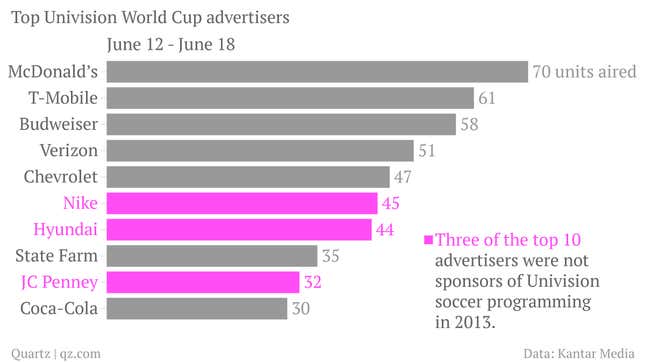 The only brands with top presences on both the English- and Spanish-language US networks during World Cup coverage were Hyundai and McDonald's.
T-Mobile and Verizon both ran more ads on Univision than AT&T ran on ESPN and ABC. General Motor's Chevrolet ran more ads on Univision than the combined total of what Volkswagen and Kia ran on ESPN and ABC.
The top alcohol ads on the English-language coverage were from Bacardi, but on the Spanish station Budweiser was the most frequent beverage advertiser.