Auto lending has been a big part of the US banking industry's revenues of late, and nowhere more noticeably than at Wells Fargo.
Wells has been striving to gain market share in auto loans as other consumer areas, like its core home lending business, have been slipping (though it's still the US's biggest mortgage lender). So far it's been a success. The bank has now emerged as the country's biggest auto lender, surpassing Ally Financial, formerly the car loan arm of General Motors.
Wells Fargo took the title by recording an auto lending portfolio of $52.6 billion in the first quarter, compared to Ally's $51.92 billion, according to SNL Financial.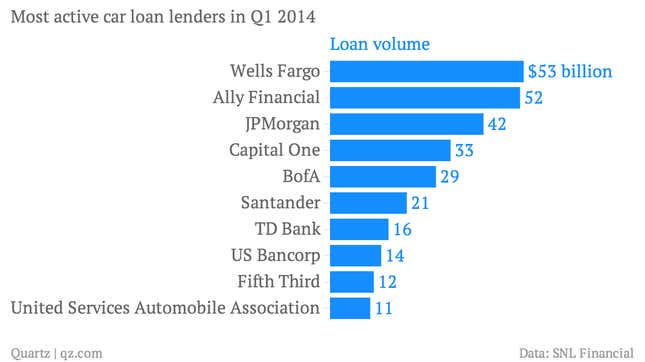 The gap between the two is meager right now. But much of Wells Fargo's growth appears to be coming at the expense of Ally, and harkens back to two years ago, when GM tapped Wells to provide financing to its Chevrolet, Buick, GMC and Cadillac dealer networks (who then provide the loans to car buyers). The expansion has been fairly steady, with auto lending increasing by 23% over the past five years or so.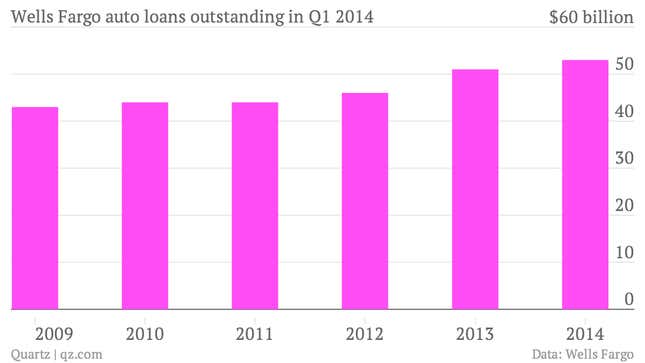 Car loans are one of the few areas left for lenders like Wells to grow. Not only are other parts of their consumer lending businesses sputtering, but trading is slumping too. However, the growth in auto lending by banks is one of several trends that has regulators worried. Specifically, there are signs that the standards used to underwrite some of these consumer loans are becoming lax. The Wall Street Journal yesterday noted that credit card underwriting standards (paywall) may be sliding as well.