Things aren't exactly rosy in banking, but they could be a lot worse. And banks such as Goldman Sachs can thank the relatively robust activity in mergers and acquisitions for buoying results that would otherwise look dreadful.
A research report from Credit Suisse is estimating that the fees banks collect from advising companies on how to buy or sell other companies could be up as much as 15% when investment banks report their second-quarter results in the coming days—the best M&A activity since 2007.
Here's the chart Credit Suisse includes in its research report on the investment banking sector: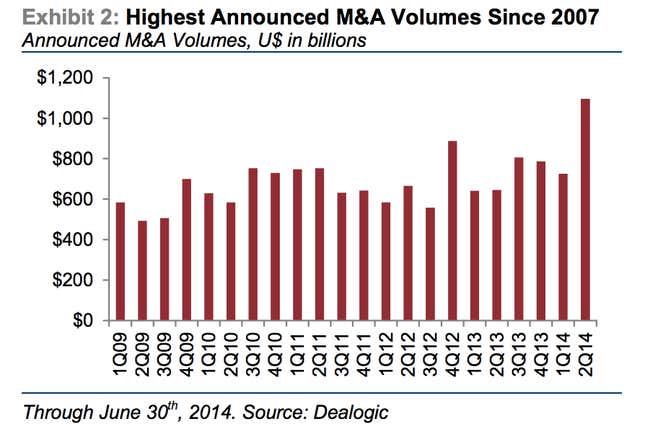 It doesn't look like that bubbly M&A activity is cooling anytime soon, with a number of recently announced deals offering signs that the market is still firing. Credit Suisse notes that M&A activity and so-called equity capital markets (which include initial public offerings of stock such as the techy IPOs that have flooded the markets this year) are proving to be key drivers—even as banks' typical moneymaking sectors, trading fixed-income securities and stocks, have slumped.
Here's a look at some of the biggest banks' sluggish performance in fixed-income trading (the chart includes Credit Suisse's second-quarter estimates):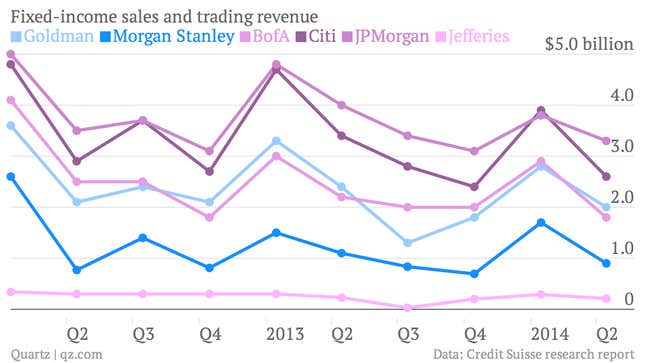 Credit Suisse is estimating a nearly 18% year-over-year decline in Goldman's core sales and trading, from $2.4 billion in revenues in the second quarter of last year to $2 billion estimated for this quarter. It predicts an even steeper 22% decline in Morgan Stanley's trading unit—$900 million in the sector, down from $1.1 billion over the same period last year.
Despite all the good news in M&A, Credit Suisse cites the weakness in trading, among other factors, as its reason for lowering overall earnings estimates for Goldman Sachs and Morgan Stanley.