India's outsourcing giant Wipro's earnings sent the market rallying today. The country's third-largest software provider, based on sales, reported stronger than expected profits in the second quarter. Everyone's cheering.
They shouldn't be.
If you look at Wipro's earnings in dollar terms (which is the real measure since the rupee has been weak and more than half of Wipro's clients are in the US), then revenue grew by 1.7% sequential and 4.4% year over year. Compared with software rivals TCS (4.6% sequential, 13% year over year), HCL (3.3% and 11%, respectively), and Infosys (2.5% and 2.2%, respectively), I do not think these are any stellar performance indicators.
Further, Wipro's operating margin—as a percentage of revenue—actually went down from 21% to 20.7%. In absolute terms, however, it increased a small amount, about $800,000 on revenue of $154 million.
So why all the celebration? Wipro's press release looks good because data and ratios were reported in rupees, where the conversion rate changes were favorable for all; the rupee weakened significantly in the second quarter so any growth over the first quarter should be appropriately adjusted, or, better yet, just reported in dollars.
The brightest spot: Wipro added 53 customers in the second quarter. What was not reported is that Wipro also lost 33 clients in the same period, but still an addition of a net 20 clients is positive. And, as this chart shows, it was sorely needed as Wipro has been lagging competitors in this area: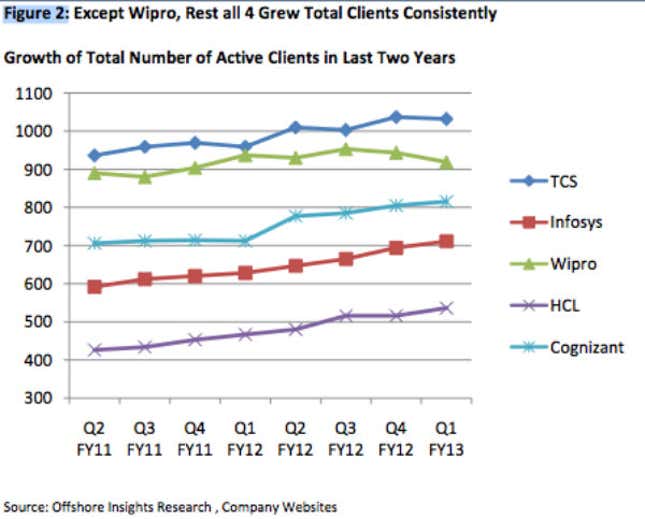 Still, Wipro has issues on hand to solve as its client profile is not improving enough. In spite of growing the number of $100-million-and above accounts, its top line is not showing a corresponding increase. We believe either there has been a large client churn or loss of business from some clients or possibly Wipro is discounting to hold on to the clients. The low margins of this quarter also indicate Wipro pleaded with existing clients to give additional work and offered attractive price points. Growing the total client count is a good first step, but the company's second quarter supports our belief that it has many challenges ahead.