European leaders are meeting in Brussels today, and broader, harsher sanctions against Russia are on the agenda.
Whatever they decide to do, trade between Russia and the EU was already on the wane, even before the crisis in Ukraine stoked tensions between Moscow and the West. According to new data out today (pdf), trade with Russia shrank particularly sharply in the first four months of 2014, a period that includes the annexation of Crimea in March and a few rounds of EU travel bans and asset freezes against Russian officials.
The EU's imports from Russia—mainly oil and gas—fell by 9% in the year to April, while exports from the EU to Russia dropped by 11%. Given steadily souring relations, further declines seem likely.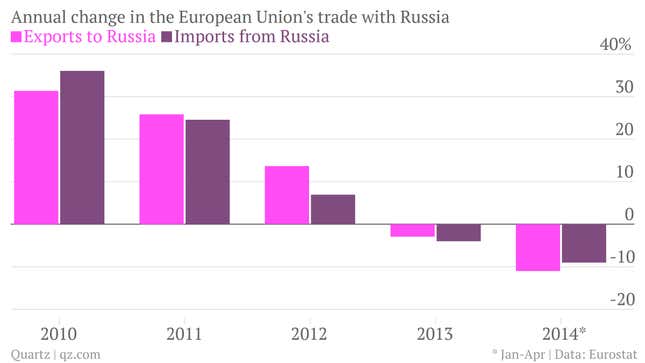 The EU is Russia's biggest trading partner by some distance, which explains Moscow's eagerness to sign energy deals with China and enlist financial partnerships with supposed allies in other emerging markets. These agreements are intended to avoid the damage that could stem from Russia's increasingly testy relationship with the US, which holds sway over the dollar-based financial system, and the EU, the main market for its energy exports.
But even without explicit sanctions, the EU has been hitting Russia where it hurts. Various technical and bureaucratic hurdles have been erected to limit the flow of Russian gas into the EU via Germany, Ukraine, and a proposed southern pipeline. Today the EU delayed, again, a decision on allowing more Russian gas to flow through a pipeline to Germany. Structural, long-term dynamics in global energy markets won't be kind to Russia's key exports, either. It all adds up to more trouble ahead for Russia's sputtering economy.