"The passion of Laughter," Thomas Hobbes argued, "is nothyng else but a suddaine Glory arising from some suddaine Conception of some Eminency in our selves, by Comparison with the Infirmityes of others."
This is, Hobbes being Hobbes, a fairly pessimistic view: Unless there's some kind of banana peel situation involved, our laughter doesn't usually come at the expense of others' "infirmities." And that's particularly so when the laugher takes digital form. Online, our chuckles are, more than anything else, affirmations. They are acknowledgements of the hilarity of our conversation partners. And they can, in that, be incredibly nuanced. Earlier this year, Buzzfeed published a tongue-in-cheek list: a guide to the 42 ways to laugh online.
Part of this variety comes from that fact that our representations of laugher evolved from the descriptive—LOL, LMAO, ROFL—to the more immediate. Now, instead of simply informing our conversation partners that we are laughing, we represent that laughter directory, with hahas and hehes and hehs (and also hahahahas and BWAAAAAhahahas and all the rest). Now, there are nearly as many ways to represent laughter online as there are simply to laugh.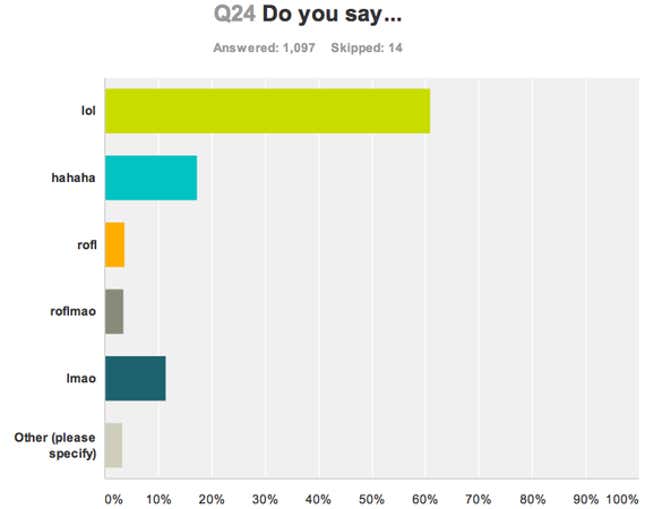 I was reminded of all this, most recently, by eBay. Which occasionally does research into how people use the Internet—looking into the relatively popularity of such things as, say, the :) versus the :-). The research team, using the task platform Mechanical Turk, surveyed more than 1,000 people about how they laugh online. And while a clear majority—668 people, or nearly 61% of the respondents—still use the tried-and-true "lol," a hefty percentage also use the less descriptive "hahaha."
Perhaps the most interesting result, though, is the small percentage of people who selected "other" as their laughter option. The eBay team offered those respondents a write-in option to explain their non-hahaha hahas. Below are the answers, verbatim, provided by the survey participants when they were asked how they laugh online. Some ("haha," "jajaja," "heh") aren't surprising; others ("u wat brah," "o boy") are a little more creative. Many ("nyahahaha") are variations of standards. "Lel," for example, is a form of "lol." As the Urban Dictionary helpfully explains:
Unlike what many people think lel is not an acronym in the same fashion that LOL is (it does not mean laughing extremely loud, laughing extra loud or similar). Lel (and variations including lal) resulted from the use of random vowels substituted in place of the 'o' in LOL. These vowels were used in an attempt to be different… The word however, in essence, still means LOL.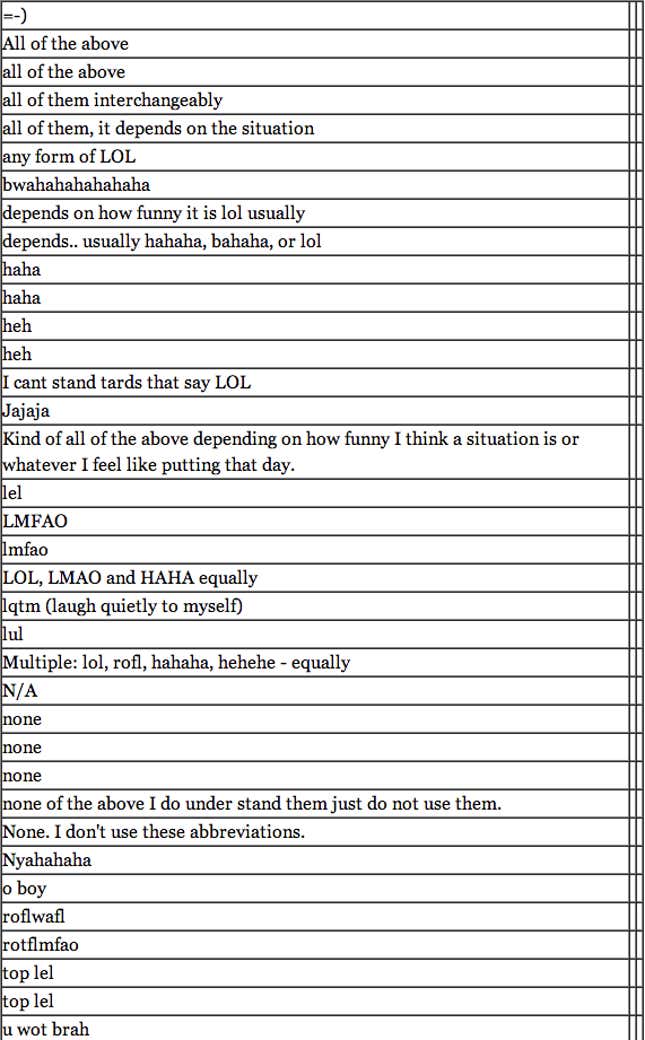 This post originally appeared at The Atlantic. More from our sister site: 
How family game night makes kids into better students
Americans say Jews are the coolest