Amid claims and counterclaims about who is responsible for the downing of a Malaysian Airlines plane in eastern Ukraine, the calls for the EU to punish Russia more forcefully for its perceived role in the disaster are growing louder. But talk of tougher sanctions is "premature," German chancellor Angela Merkel said at a press conference today.
Although it makes sense that the most pressing diplomatic response is to push for an immediate ceasefire in the region, not least to allow for a thorough investigation of the crash site in the separatist-held territory, European leaders cannot put off the sanctions decision indefinitely. The crash, which killed all 298 people on board (189 of them Dutch nationals), is creating a crisis of intense gravity for the EU's fractious foreign-policy establishment, as well as for the Kremlin.
The day before the crash, a new round of US sanctions was unveiled, targeting some of Russia's largest banks, energy companies, and defense groups. European leaders were meeting in Brussels when US officials announced the measures, and followed up with the EU's toughest sanctions yet. Still, those were not nearly as harsh as Washington's, because the EU first needs to change its rules to allow it to target companies and sectors, instead of just individuals. The changes could come at the end of this month, but EU deadlines have a tendency to slip.
A sense of urgency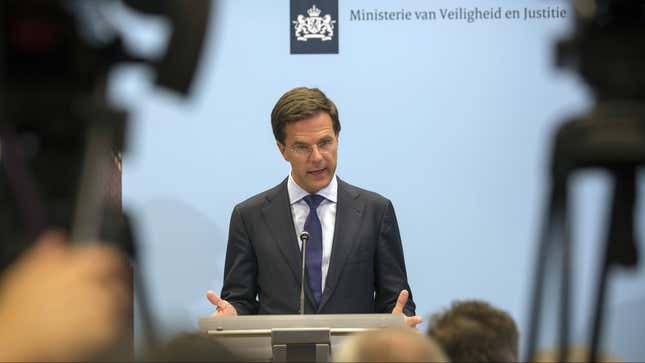 But the meeting of EU foreign ministers next week will gain a greater sense of urgency, given the suggestion that pro-Russian separatists in Ukraine may be responsible for the downed airliner. The more hawkish countries, including Poland, the Baltics, and the UK, may push for broader sanctions to be imposed swiftly (paywall), certainly before the next scheduled summit of EU leaders at the end of August. If Russian involvement in the crash is established, the Netherlands can also be expected to push for harsh retaliation.
Germany, as always, will be key in crafting the EU's response. Although chancellor Angela Merkel has been choosing her words carefully, calling for a "political solution" to the crisis in Ukraine, she also said today that this solution hinges on "Russia's responsibility for what is happening in Ukraine right now."
This echoes the harder line taken by American officials. "Russia can end this war and Russia must end this war," Samantha Power, US ambassador to the United Nations, said today. Later, president Barack Obama said the spiraling violence in eastern Ukraine was "facilitated in large part because of Russian support." He called the plane crash a "wake-up call" for European leaders. Former secretary of state and presidential hopeful Hillary Clinton said yesterday that "there should be outrage in European capitals."
Words and actions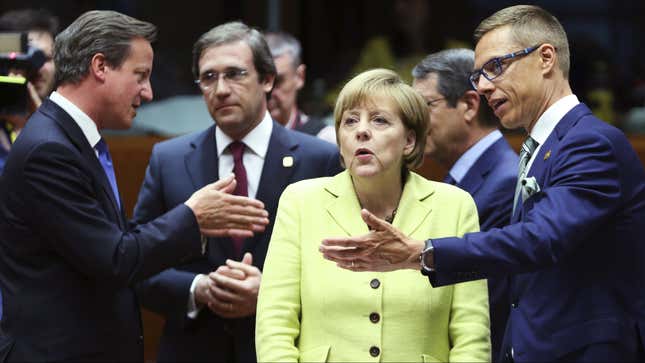 Emotions are undoubtedly running high across Europe, but whether that translates into action remains to be seen, according to Hans Kundnani, research director at the European Council on Foreign Relations, where he specializes in German foreign policy. So far, in dealing with Russia the EU "has maintained relative unity, but only through having a lowest-common-denominator policy," Kundnani tells Quartz. This explains why European sanctions have been softer, and slower in coming, than their American counterparts, despite the countries' similar takes on the dynamics of the conflict in Ukraine.
Although the EU's latest sanctions were tougher than anything they have imposed before, its leaders delayed a decision on the sort of broad embargoes imposed by the US, which could do considerable damage to the Russian and European economies, given their extensive trade ties. States such as Cyprus, Luxembourg, and Italy are seen as among the most reluctant to shoulder the costs associated with imposing harsher sanctions on Russia. It happens that Italian foreign minister Federica Mogherini is considered the front-runner to take over as the EU's new foreign affairs chief.
It's unclear whether the current crisis will help states bridge their differences, or have the opposite effect. "As the pressure increases on Europe to take tougher action, it could be that you don't have greater solidarity, but even deeper divisions," Kundnani says.
But with 298 bodies now strewn across a field in Ukraine, the waffling and delays over how, or whether, to rebuke Russia won't wash for much longer. So far, the EU "has managed to threaten tough sanctions but only impose symbolic measures," Kundnani says. "At some point, the bluff will be called."