Now 17 months removed from the infamous "Poop Cruise," Americans are starting to come around to Carnival again.
After a number of mishaps last year, the cruise line giant's brand is recovering, according to YouGov's BrandIndex rankings. Carnival's brand perception improved in the first half of 2014 by almost twice as much as Bank of America's, the brand with the next best improvement.
The YouGov survey asks adults, "If you've heard anything about the brand in the last two weeks, through advertising, news or word of mouth, was it positive or negative?" It uses their answers to calculate a "Buzz Score" that measures overall consumer perception. Despite their improvements, both Carnival and Bank of America's brands have an overall negative rating.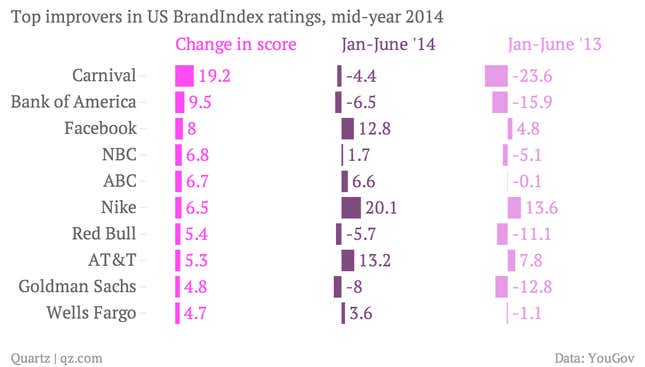 Carnival has had to rebound from a plethora of serious incidents. Just weeks after the notorious February 2013 cruise in which a ship was becalmed for five days without working toilets, two other Carnival ships experienced an emergency generator failure and propulsion problems on successive days. The Carnival Corporation, which owns Carnival Cruise Lines, also owns Costa Cruises—the Italian cruise line whose Concordia cruise ship capsized in 2012, killing 32 people (it was just today raised off the reef where it had foundered.) Carnival's perception had also suffered due to controversies over its staff salaries and retirement benefits. But a decent stretch of time without mishaps has helped the brand recover.
And while Carnival topped the list of most improved, Amazon had the best overall "buzz score" in the YouGov survey, beating out Subway and YouTube by a few points.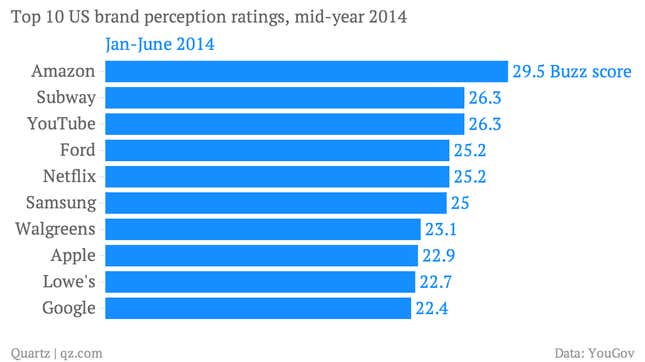 New to the top 10 was Netflix, which announced yesterday that it had surpassed 50 million streaming subscribers in its quarterly earnings report.