Russian president Vladimir Putin has spoken with Dutch prime minister Mark Rutte in four of the past five days, including this morning. The Kremlin describes the leaders' telephone conversations as "constructive," while the Dutch side has dubbed them "extremely intensive."
As Russian officials publicly trade barbs with their Western counterparts over the downing of the passenger plane Malaysia Airlines flight 17 in eastern Ukraine—which killed all 298 on board, nearly 200 of them Dutch citizens—Rutte and other world leaders have also been busy working the backchannels to Putin.
A Quartz analysis of the Kremlin's accounts of Putin's calls and meetings with other world leaders that address the crisis in Ukraine (which may, of course, not be the full list) offers some clues as to the extent and nature of that telephone diplomacy. (See chart above.)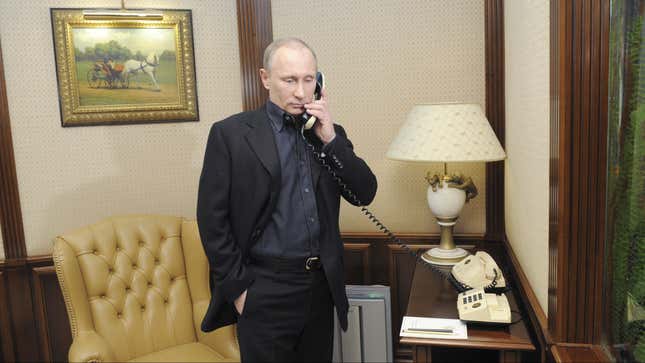 No leader has had more contact with Putin than German chancellor Angela Merkel. Over the past six months she has spoken with the Russian president about Ukraine more than twice as many times as any other world leader. In their most recent conversation, the German chancellor "urged the Russian President strongly to use his influence over the separatists," according to her office. This account fits Merkel's cautious, deliberate approach to diplomacy with Russia, which has nonetheless hardened since the annexation of Crimea in March.
Others have used much stronger language to describe their recent talks with the Russian president. "I spoke to President Putin last night and made it clear that there can be no more bluster or obfuscation," British prime minister David Cameron told parliament yesterday. US president Barack Obama also called out Putin by name, saying that his "direct influence" over the separatists suspected of shooting down the plane gives him "direct responsibility to compel them to cooperate with the investigation."
Obama and Cameron have each only spoken directly with Putin twice in the past three months. For them, the time for talk is over, it seems: The US and UK have taken some of the hardest lines against Russia of late, with the US unveiling sweeping new sanctions against large banks and energy companies last week, and the UK reopening a provocative case about the murder of an ex-KGB agent in London which implicates the Kremlin.
EU foreign ministers met in Brussels today and pledged to "accelerate the preparation" of a new round of sanctions against Russia (pdf). Growing support for an arms embargo is not going down well in France, which is still planning to deliver a warship to Russia as part of a deal signed a few years ago. As it happens, French president François Hollande has stepped up his contact with Putin recently, making him second only to Merkel in the number of personal calls and meetings with the Russian president in the past few months.
But what is clear from the phone records is that, if tougher sanctions cannot compel Putin to change course, Western leaders' hopes for getting Russia to cooperate in resolving the crisis in eastern Ukraine rest largely on Merkel—or, more accurately, on her phone.