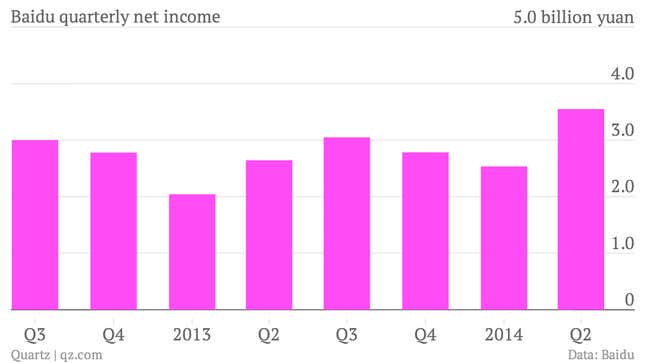 The numbers: Quite good. China's leading search company posted a profit of 3.55 billion yuan ($571.7 million), up 34% from the same period last year and ahead of analyst expectations. Shares rose 5.7% in after-hours trading.
The takeaway: CEO Robin Li said that for the first time, revenues from search on mobile devices contributed more than 30% of total revenue, and that mobile traffic had sometimes surpassed desktop traffic during holidays over the past quarter. The company makes the bulk of its money from search advertising on desktop but has been trying to shift advertisers to mobile.
Baidu still dominates China's search market. During the quarter, Baidu accounted for 75.7% of search engine queries, while its rivals Qihoo and Sogou commanded just 16.4% and 5.1%, respectively, according to Bloomberg data.
What's interesting: Baidu is the primary way that Chinese mobile users search for and download Android apps. Though a huge majority are on  Android phones, only 5.6% used Google Play to download apps last year. That puts Baidu in a similar situation to Facebook, which is minting large sums by running ads for so-called app-install ads. Baidu CFO Jennifer Li said the company is now focusing on building new apps for for search and mapping, as part of an ecosystem of apps attached to its Mobile Baidu search app, which has about 70 million daily active users.
Baidu is also ramping up its foray into artificial intelligence. In May, Baidu hired Google's former AI head, Andrew Ng and pledged to invest $300 million (paywall) into a new R&D center in Silicon Valley.