AMC Networks hasn't found its much-needed replacement for Mad Men or Breaking Bad yet. And with its new shows like Halt and Catch Fire and Turn both underwhelming on the ratings front, its share price is still stuck in the doldrums.
But there are reasons to believe the fortunes of the once-sleepy, movies-only channel—which has more recently transformed itself into a destination for some "must-watch" programming—could be about to improve. At least on the stock market.
Macquarie analyst Amy Yong last week described AMC as a "prime acquisition candidate," arguing the company still has scope to increase the amount it receives in carriage fees from pay TV companies.
And as 21st Century Fox's blockbuster, $80 billion bid for Time Warner shows, the old, Bill Gates adage that "content is king" has never been truer. If Rupert Murdoch desperately wants to get his hands on Time Warner's HBO, it's certainly plausible that similar dynamics could apply for someone else and AMC.
The experience of Breaking Bad also suggests the lukewarm audience response to AMC's newer shows might eventually improve. The drama famously built its devoted following not on cable, but among binge-watchers on Netflix. As the below chart shows, ratings in its final season were much, much higher than when it started out.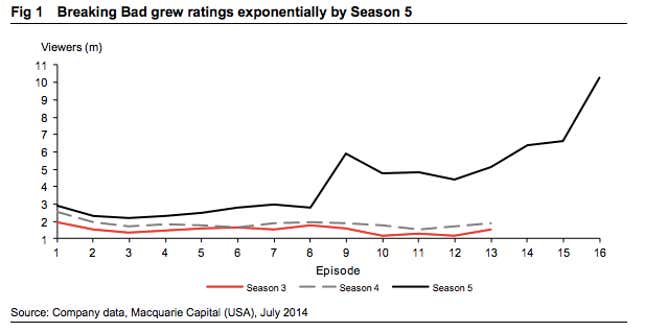 Yong says AMC is being patient with its new shows, because it can monetize them on digital platforms (including Netflix), and internationally. (Last October, AMC paid about $1 billion to acquire Chellomedia, the owner of a portfolio of European and Latin American cable TV stations, allowing it to hold on to more of the upside from its hit shows' global appeal.)
That said, unlike Time Warner, AMC Networks does have a controlling shareholder, the Dolan family cable dynasty (which also controls Cablevision and Madison Square Garden, the owner of the epynomous New York arena, as well as the New York Knicks basketball team and New York Rangers hockey franchise.).Whether the Dolans have any interest in loosening their grip on AMC is unclear. Yong did not name any potential suitors (and declined to comment when contacted by Quartz) although Bloomberg has previously reported on speculation that News Corp (now 21st Century Fox), CBS, and Comcast might be interested in the business.
While an acquisition of AMC is an interesting thesis, it's not one that investors are buying into, at least currently. AMC's stock has lifted itself off its lowest levels of the year in recent weeks, but is still down about 10% so far in 2014, compared to a rise of about 7% for the broader market.