Last year, BP thought it had put an end to a dark chapter in its history. The British oil giant sold its stake in a troubled Russian joint venture, known as TNK-BP, to Rosneft, the Russian state oil firm. TNK-BP had been beset by infighting between BP and the Russian oligarchs who were its partners, at one point leading Bob Dudley, who ran the joint venture at the time and is now BP's boss, to flee Russia in haste when poison was found in his blood.
As part of the sale, BP picked up a 20% stake in Rosneft, giving it a passive stream of profit and dividends from the world's largest listed oil company in one of the planet's most resource-rich regions. Indeed, BP's stake in Rosneft has generated some $3.5 billion in operating profit for the British group since its purchase 16 months ago. This includes $1 billion in the second quarter of this year alone, or around a fifth of its overall profit, according to financial results released by BP today: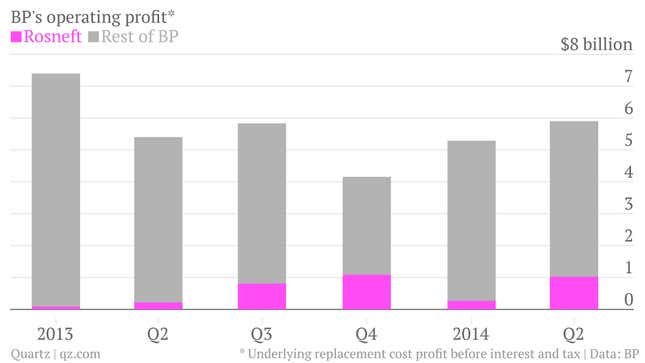 Despite a decent set of quarterly results, with profit beating analyst expectations, BP's shares are down today, and its exposure to Rosneft is largely to blame. The Russian firm became the target of US financial sanctions earlier this month, effectively cutting it off from US bond and equity markets. Igor Sechin, Rosneft's boss (pictured above hugging Dudley), was also named individually in a previous round of US travel bans and asset freezes. EU officials are expected to announce new sanctions this week, including a ban on exporting equipment crucial for drilling and exploration.
As if that wasn't enough, a Dutch court yesterday found Russia liable for $50 billion in damages to former shareholders of Yukos, a private Russian oil company whose assets Rosneft acquired after the Kremlin imposed back-tax bills on Yukos, imprisoned its bosses, and forced it into bankruptcy. The court ruling means Yukos's aggrieved shareholders could apply to seize international assets from Rosneft as compensation if Russia doesn't pay up.
This all adds up to a big headache for BP, since it has Rosneft to thank for a sizeable share of its recent earnings. This passage popped up in its latest financial statement:
Any future erosion of our relationship with Rosneft, or the impact of further economic sanctions, could adversely impact our business and strategic objectives in Russia, the level of our income, production and reserves, our investment in Rosneft and our reputation.
As Western government turn the screws on Russia for its suspected role in supporting separatists in eastern Ukraine and annexing Crimea, investors would be wise to heed BP's warning. Although several of its fellow "supermajors" are also exposed to Russia, the British group's big stake in Rosneft has hurt it in the markets, where it's lagging all of its rivals so far this year: