The argument that every company is a tech company—or that there is no such thing as a tech company—is an old one. But it seems increasingly clear that every company also needs to be a data company.
A new report from Tata Consultancy Services, a large IT-services company, looks at digital initiatives in some 800 large global companies. The survey found that "95% of companies are using digital technologies in some way to connect and track their customers, with social media and mobile apps as the most common methods." By 2020, the companies will use myriad more methods to glean customer data.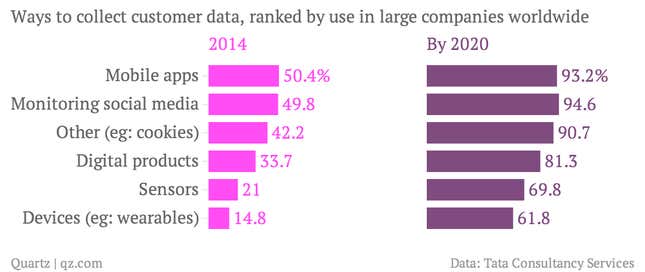 It isn't just digital companies or those founded on the idea of data-gathering. The survey took in companies from 13 industries, including retail, consumer goods, manufacturing, energy, automotive, and utilities, each with at least $500 million parent-company revenues. The companies represent 10 large global economies across four regions. Here's how companies from each region gather customer data today. The tactics are fairly similar across markets.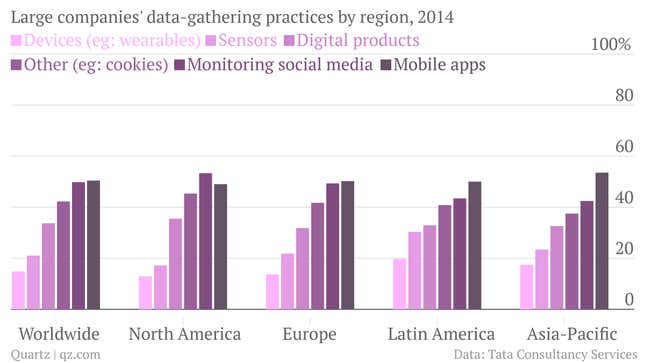 Big online firms already scoop up as many digital breadcrumbs left by your trails on the internet. But by 2020, says the report, "a majority of companies predict they will gather customer data through all of the aforementioned tools." Here, the differences become more noticeable, particularly in North America.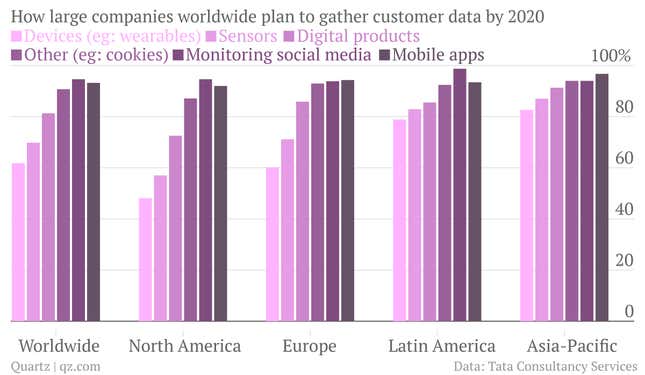 The troves of personal data available in the digital sphere won't necessarily lend themselves to a commercial free-for-all. The report notes, "In North America, where privacy laws aren't as rigorous as they are in Europe, the majority of companies we surveyed continually monitor and analyze customer comments in public social media."
But by 2020, "the U.S. government may have put guidelines in place specifying how data-collectors—from app developers to advertising networks to operating systems makers like Google, Apple and BlackBerry—must disclose the data they collect and how it will be used. The push for a so-called 'Apps Act' in the U.S. grew out of a report issued by the Federal Trade Commission in early 2013. Among its findings: 'Less than one-third of Americans feel they are in control of their personal information on their mobile devices.'"