It seems like barely a month passes without some mega-merger or eye-popping acquisition in the technology industry. Cue breathless analysis about a new tech bubble. But is the industry really that overheated? Mergermarket, a research group that tracks mergers and acquisitions, shared its data (available here as a pdf) with Quartz.
Yes, there's a lot of M&A activity in tech right now.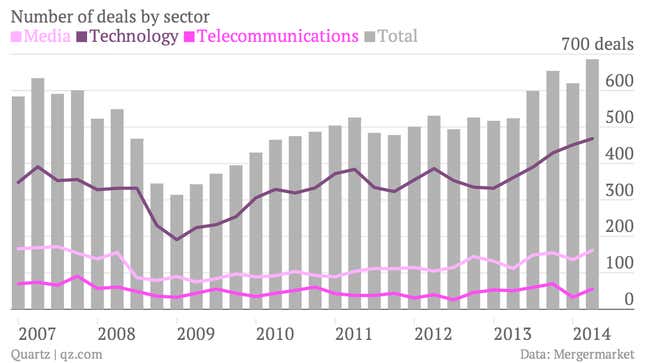 Indeed, the value of all the deals in technology rose 61% to $113.5 billion from the first half of 2013, with just the first quarter of this year seeing nearly as much activity as the first half of last year. But there is also a lot of M&A activity in the global economy in general.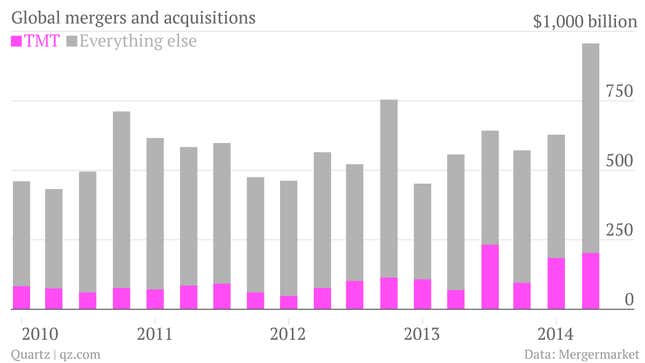 And when you look at where the transaction value is coming from, telecommunications deals far outweigh technology and media together. Telecoms accounted for over 60% of the total tech-media-telecom sector activity in the first half of this year (partly accounted for by a spate of pending mega-mergers, including the announced Time Warner-Comcast deal and the AT&T-DirecTV merger).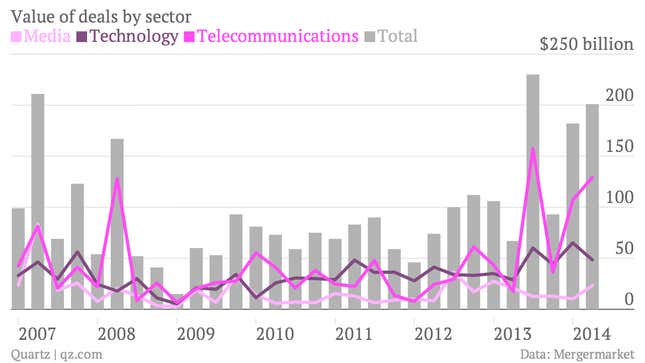 The number of mergers and acquisitions has steadily been inching up since the start of recession, with growth evenly spread among various regions.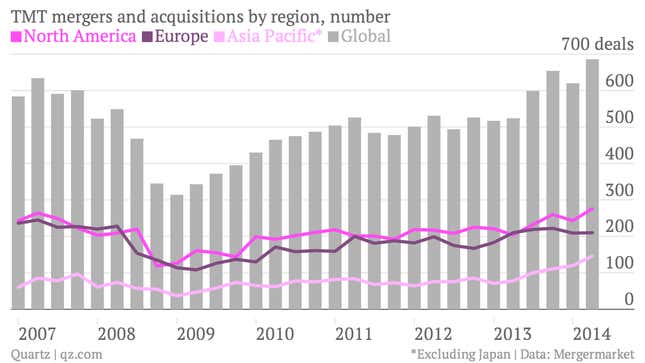 But mega-deals in telecom, as well as big tech buy-outs like Facebook's purchase of WhatsApp mean that while activity is distributed, the value is concentrated in North America.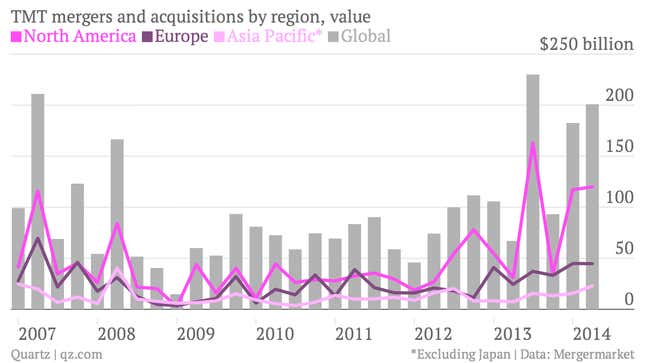 The takeaway: It's not a case of confirmation bias. There are indeed more deals in tech right now than at any point in the last seven years. And thanks to the periodic giant buy-out, collectively they're worth more than ever before, too.