Big numbers from global auto-making giants Toyota Motor and BMW today showed that the global appetite for sport utility vehicles—which saw demand crater during the worst of the Great Recession in the US—are making a big, profitable comeback.
Toyota's net income surged to a record ¥587.8 billion ($5.72 billion) during the second quarter, driven by surging sales of SUVs and light trucks in the US.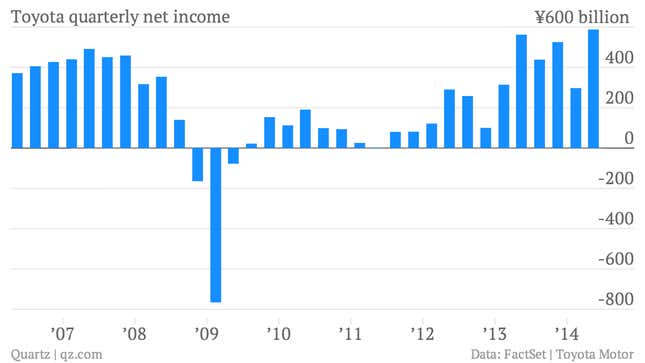 A revamp of the popular RAV4 last year has sent sales of the mid-sized SUV soaring. (Through the end of July, RAV4 sales were up 37% year-on-year. A recently redesigned Highlander is also revving up sales.)  Likewise, Germany's BMW is feasting on fat profits from a surge in global sales of BMW's recently refreshed X5 SUVs, as well as strong demand out of China. And major US manufacturers are seeing increased consumer interest in SUVs as well.
With gas prices holding relatively steady in recent years, the return of American consumers to SUVs and light trucks may be yet another sign that consumer confidence is finally normalizing five years after the economic recovery began. That could augur well for near-term economic growth in the US. But for those who were hoping that the disruptions of the Great Recession would permanently dampen America's automotive appetites, the return of the SUV has to be disappointing. That said, many of the hot-selling SUVs today, such as Toyota's RAV4, are more car-like than the SUVs of the early 2000s, and much more fuel efficient.