The numbers: Turbo-charged. BMW's second-quarter net profit surged by 27%, revving ahead of market expectations. Sales of Beamers rose by 8% versus the same period last year, pushing the company's quarterly sales, which also includes Mini and Rolls-Royce models, to a new record of more than 533,000 cars.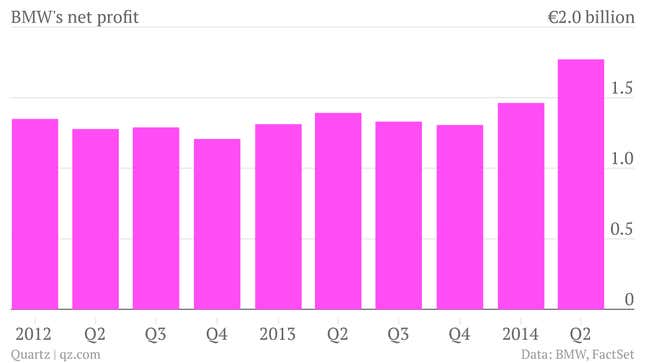 The takeaway: Sales of BMW's X5 sport utility vehicle rose by 30% in the first six months of the year, the best of any BMW-branded model by far. In terms of geography, BMW group sales in China rose by 23% in the first half. Ultra-luxury Rolls-Royces are also flying out of showrooms, with sales up by 33% over the past six months. In all, BMW sold more than one million cars in the first half of the year, leading it to pledge that it will deliver more than two million vehicles this year, which would be a new company record. That works out to roughly four cars every minute.
What's interesting: Although BMW is facing stiff competition from fellow German luxury rivals Audi and Mercedes-Benz, its latest results helped defend its lead in the sales league table. And despite doing well from gas-guzzling SUVs in recent quarters, BMW has big plans for its all-electric i-Series cars, which are only just going on sale in major cities around the world. The company is also making more money per car than its rivals, boosting its operating profit margin to 11.7% of sales in the second quarter, up from 9.6% in the previous year. This was better than Audi's 9.9% and Mercedes-Benz's 7.9% margins in the same quarter.