If you are a big fan of American sports, chances are you haven't cut the pay TV cord yet—or are at least finding it very hard to do so.
ESPN, the juggernaut cable sports network controlled by Disney, controls the rights to a lot of sports (particularly college football) and for a lot of years to come. The chart below, from RBC Capital Markets, doesn't even include its soccer rights, which could prove increasingly valuable now that the world's favorite sport appears to have finally found its place in the US.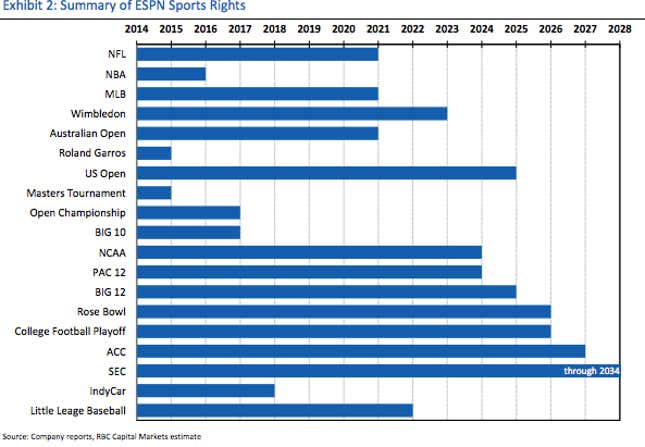 Like HBO, ESPN is only available with a pay TV (cable, satellite or telecom) subscription. But while HBO appears to be at least considering a Netflix-style 'over the top' service (HBO Go, without a full cable subscription, exists in other countries), there is no indication ESPN is even remotely interested in that model. (Sure, Dish Network's recent carriage deal with Disney included rights to stream ESPN 'over-the-top,' but pricing and bundle details of that service are yet to be revealed.)
There is a simple explanation for why: ESPN makes more in 'affiliate' fees (carriage fees paid by cable companies, like Comcast, to include a network in their video packages) that just about any other channel, and more to benefit than anyone else from the status quo. Nobody blames ESPN for ever increasing cable bills, that anger is directed mainly toward cable companies, even though high affiliate fees—to cover ever-increasing sports broadcast rights deals—are a big reason why those bills rise.
There is a new competitor in the 24-hour cable sports landscape: Rupert Murdoch's 21st Century Fox, which launched Fox Sports 1 about a year ago. The channel, which does not have as much valuable content as ESPN does (at least not yet) has got off to a slow start. But Murdoch defended its progress on this week's earnings call. "It took 7 years for Fox News to turn a profit. And today, it's making well over $1 billion a year. So, these things take time," he said. 
I have argued that tieing up more sports content was one of the reasons Murdoch wanted to buy Time Warner. Adding HBO and Time Warner's sports content to its portfolio, and Fox might even have been able to offer a Netflix style service on its own. But with Murdoch having withdrawn his Time Warner bid, that prospect is now off the table, at least for now.
Sports fans, it would seem, are destined to stay tethered to the cable box for a while yet.