Rupert Murdoch may not be getting his hands on Time Warner, but his $80 billion bid for the company (and its subsequent withdrawal) could inadvertently achieve something many Americans have wanted for years.
At the very least, the bid seems to have prompted a change in thinking at Time Warner about its crown jewel, HBO, and the internet. Time Warner's CEO Jeff Bewkes used to go to great lengths to distance the premium channel from any comparisons to Netflix; this week he seems to be actively encouraging them. And there is a good reason why.
Murdoch and 21st Century Fox made it pretty clear on their Aug. 6 earnings call that they are walking away from their pursuit of Time Warner. Does that mean a deal between the two corporate giants is never going to happen? Not exactly.  But it does mean the pressure is now on Jeff Bewkes and Time Warner to demonstrate they can generate more value than the Fox bid (worth $85 per share at the time of the approach) would have achieved for shareholders.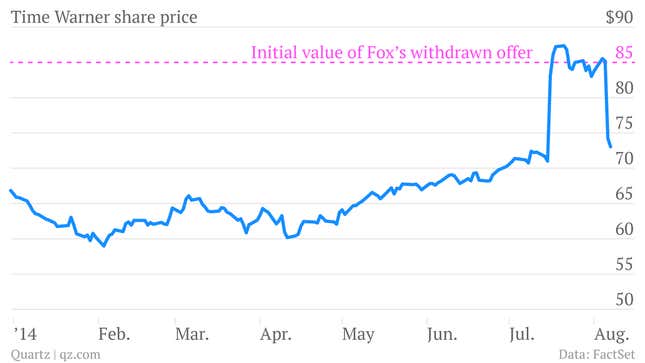 Time Warner's second quarter results were actually stronger than most analysts had expected (RBC Capital Markets described them as "solid across the board").  More details about the company's plan for standalone growth will come during its upcoming investor day. Bewkes may eventually be able to get the share price back to the $85 mark on his own. Otherwise, if investors begin to bristle at his rejection of Fox's overtures, he may want to get creative and set HBO free.
HBO and Netflix are now similar in terms of both subscriber numbers and subscription revenue, but HBO (which still requires some form of pay-TV subscription for access) remains significantly more profitable. Yet many investors think HBO is an under-appreciated asset within the Time Warner corporate structure. It also arguably has not fully capitalized on huge demand for its culturally-attuned shows, which are consistently the most pirated content on the internet.
Netflix is growing faster, but HBO arguably still has a lot of room to grow (especially if more people were able to access it easily and without paying for other content they don't want). A Netflix-like valuation to HBO yields more than Time Warner's current market capitalization of $62 billion. So the option of making HBO Go available on the internet without a full cable subscription (referred to as going "over the top") in the US,  as is already available overseas, may be a valuable one.
Until now HBO has resisted doing so because it would involve sacrificing the lucrative income it receives from the pay-TV distribution companies. But suddenly that concern seems to have vanished: Bewkes is now talking about Time Warner developing a "platform that could not only deliver HBO networks but also Turner network and frankly other networks" online.  In short, Rupert Murdoch may end up being be the catalyst that spurs Time Warner and HBO to fully embrace the internet TV revolution. Go figure.