The last time we wrote about palladium, in April, the price of the precious metal was flirting with three-year highs. In retrospect, that was nothing—a recent surge has pushed it up to a 13-year high: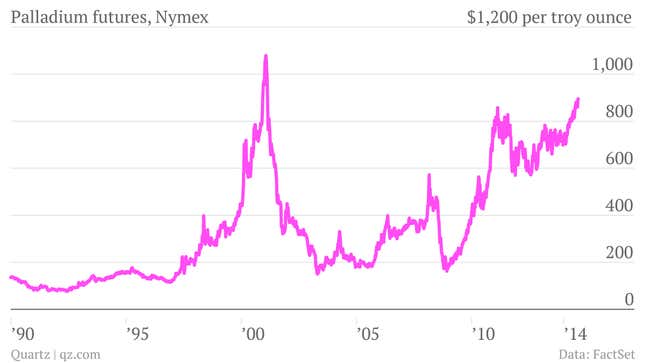 This is despite the end of a five-month strike in South Africa, the world's second-largest producer of the metal. The loss of South African output was a big factor pushing up palladium prices earlier this year, alongside the global recovery in auto sales (palladium is a key component in car exhaust systems).
But the latest moves in the market are all about Russia, which accounts for around 40% of the world's palladium supply. As tensions escalate between Russia and the West over the turmoil in Ukraine, investors fear that the metal may get caught up in the tit-for-tat sanctions that each side is imposing on the other.
With the mines in South Africa slowly revving back to life, this year the global palladium market will see one of the largest gaps between supply and demand on record, according to chemicals company Johnson Matthey: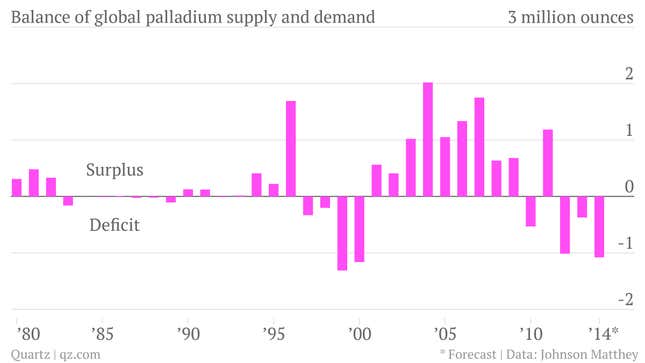 Russia is reportedly mulling a ban on car imports from the West, a considerable escalation from its embargo on fruits, meats, cheeses, and other foreign foods—last year it imported $10 billion worth of passenger cars from the EU and US. If the ban also included trucks and other commercial vehicles, it would subtract billions more in sales from the politically sensitive European and American auto industries. (They're almost as sensitive as the farm lobby hit by the food import ban—you can see the method in Moscow's moves.)
Given its leverage in the palladium market, the Kremlin could send a warning shot by selectively restricting the supply of the metal, making catalytic converters more expensive to produce in countries on its blacklist. This could have the side-effect of making foreign cars more expensive in Russia, reducing demand for imports without resorting to the open provocation of an outright ban.