Could it be? Could London's property boom actually be coming to an end? The UK's statistics agency said today that the average home price in London rose by a mere 19.3% in the year to June, down from a 20.1% rise in the month before.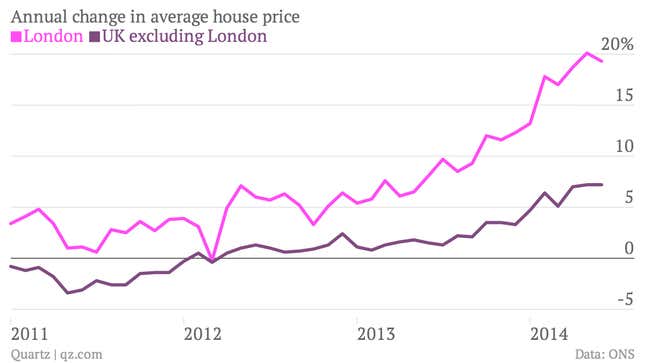 If this is a sign of a slowdown, it's a modest one. In other words, if agents called last month's data "borderline insane," that makes the latest batch just garden-variety kooky. The average residential property in London now fetches £499,000 ($831,000), a cool £75,000 more than a year earlier.
But the official data lags other indicators, which suggest that the market is indeed cooling a little. The property website Rightmove said yesterday that, on a month-to-month basis, prices in the capital fell for the third month in a row in August. Mortgage lender Nationwide has also seen recent signs of moderation (pdf). The Bank of England's restrictions on the riskiest home loans will kick in soon, which will have the biggest impact in London.
The Office for National Statistics also said today that it is trying to bring more coherence to the way house prices are measured in the country, publishing proposals for a "single definitive UK House Price Index" next month. In the meantime, market watchers will try to make sense of the profusion of property indicators that Londoners obsess over, looking for any hint that the capital's gravity-defying boom could turn to bust.