Macau's lucky streak appears finally over. Casinos in the former Portuguese colony—now the biggest gambling center on the planet—brought in 4% less revenue in July, compared with the same month last year. This was the second consecutive month of declining revenue.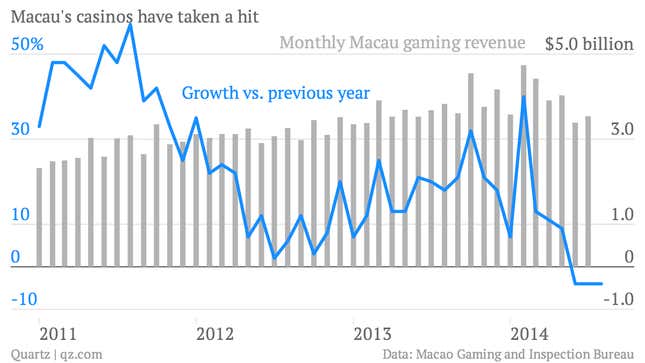 Its casino stocks are suffering too: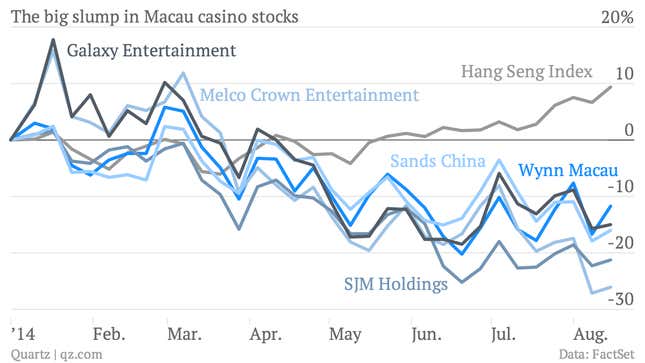 What's behind the meltdown? Conventional wisdom offers three explanations: the distraction of the World Cup, Chinese president Xi Jinping's crackdown on corruption crackdown (paywall), and government tightening of capital outflows (paywall).
But there's another factor likely at play: real estate. While high-rolling Chinese "VIP room" customers—usually wealthy businessmen—sometimes gamble on credit, it's also common for them use property as collateral, says research firm JL Warren Capital in a recent note.
Or at least, they used to. After peaking in late 2013, China's housing market has been crumbling at an accelerating pace. Home prices in July fell in 64 of the 70 cities the Chinese government tracks (compared with the previous month), the most since January 2011. In Beijing, prices fell 1%, the first monthly decline since Apr. 2012.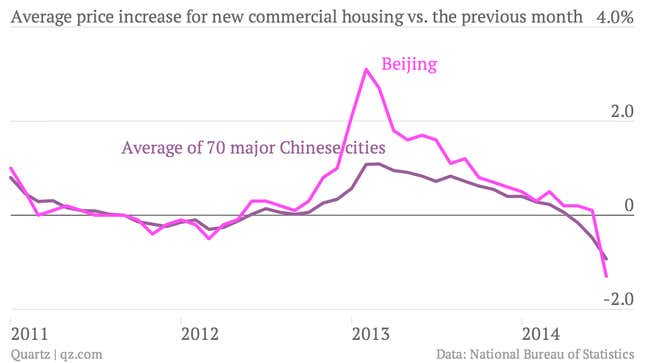 This is making it harder to use property as collateral when paying gambling debts, says JL Warren. And even when indebted gamblers do find buyers for the property, the reluctance of banks to grant mortgages these days is delaying final sales. As a result, it's taking twice as long—now at least six months—to pay back debts. It's this lack of easy cash that is making wealthy Chinese VIPs more conservative at Macau's VIP baccarat tables.
Xi's crackdown on corrupt government officials has certainly affected their gambling. Some officials have turned to betting on baccarat tables by phone (link in Chinese) rather than make trips to the casinos, reports Caixin, but the practice isn't common.
Macau's casino revenue depends more heavily on the gambling habits of businesspeople. Starting five or so years ago, real estate developers and investment firm managers replaced Chinese government officials as the dominant high rollers, casino and junket operators told Caixin.