Tesla Motors shares have hit another record high today, and the stock price for Elon Musk's electronic vehicle maker has now nearly doubled in 2014.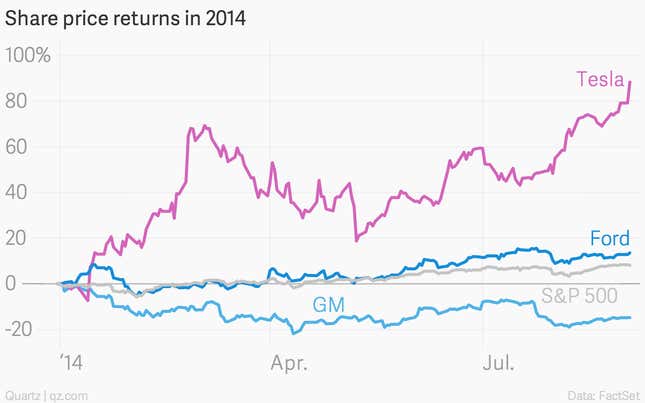 Today's rise is being driven by more ebullient commentary from Wall Street. James Albertine, a stock analyst at Stifel, this morning declared he thinks Tesla's share price could nearly double again. His target price is $400 (the shares currently trade at around $283), a forecast that, according to the Wall Street Journal, makes him one of the most bullish analysts following the stock.
Albertine had been one of the few skeptics on Tesla for the past year, but following a visit to the company's production facility in Fremont, California, he is now preaching the company's virtues with a convert's zeal.  Among the highlights from his research note was the observation that Tesla "has captivated a global audience," which includes people who "would have never considered spending six-figures on anything but a house" (like this guy in Norway, who owns the most Teslas in the world, or journalists like me who could never afford one).
To be fair, Albertine says there are still risks to consider, including the company's colossal "gigafactory" project and the durability of its battery packs. They don't matter, though, he says, because the sentiment surrounding the stock is so overwhelmingly positive. Albertine likened the momentum to a freight train, but metaphors aside, this is all about the electric car business—despite signs that GM is interested, it looks like Tesla is going to have that market all to itself, for at least a few more years.