Facebook has been stuffing its newsfeed full of video ads. Twitter has been experimenting with video ads in timelines. Now Spotify, a service known primarily for its audio experience rather than its visuals, also wants a piece of the action.
The Swedish-based streaming music service today launched two video advertising products. The first allows brands to buy 15- or 30-second video "takeover" ad breaks on its desktop platform. The second (and arguably more interesting one) allows mobile users to opt in and subject themselves to 30-second video commercials, in exchange for 30 minutes of free listening.
It remains to be seen how users will respond to the new ads. But it makes perfect sense for Spotify to explore using them. Online video is one of the fastest growing segments of the advertising industry. Jefferies Equity Research expects online video ad spending to hit $10 billion next year. Video advertising is more effective and less commoditized than other forms of online advertising, so in theory it should command higher rates.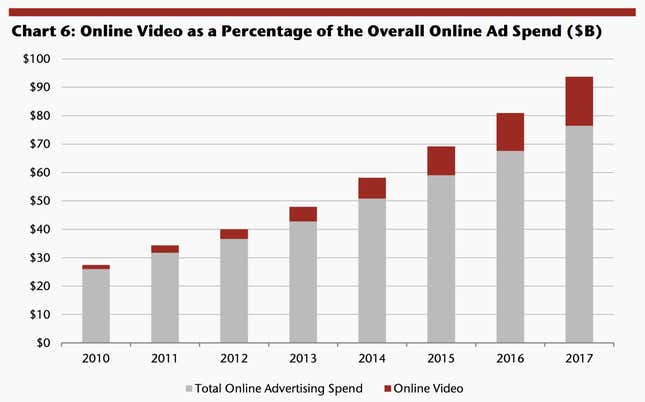 It also makes sense for Spotify, potentially readying itself for an IPO, to explore new ways to monetize its free user base, which at last count stood at around 30 million. (Another 10 million users pay about $10 a month for an ad-free experience.) Spotify has never confirmed or even commented on any plans for an initial public offering, but this year, the company established a credit facility with investment banks, sought to hire compliance professionals, and even hosted practice earnings calls.
There is at least one more reason why Spotify's foray into video advertising is intriguing.
The biggest streaming music service of them all (according to no less an authority than Spotify's CEO, Daniel Ek) actually is YouTube. For years, people have used the Google-owned video upload site as a de-facto free streaming music service, creating playlists of film clips to play back and listen to. YouTube is now reportedly edging toward the launch of a full-fledged streaming audio service (with both free and subscription-based tiers) that would be a direct challenge to Spotify.
Spotify's audience is a fraction of YouTube's, but in attempting to capture a slice of the online video advertising market, it is now edging onto YouTube's turf.