Chances are that if you are a regular Netflix user, you often wish you could adjust the quality of your video stream. While you could always go into your account settings and change your streaming quality—auto, low, medium, or high—there's an even more precise way to do so without ever leaving the video you're watching.
Reddit users have found a series of "hidden" menus that allow you to view your streaming quality stats, diagnose any potential issues, and then adjust your stream accordingly. Try these while watching any video on netflix.com:
Control+alt+shift+S
You get a control panel for your video: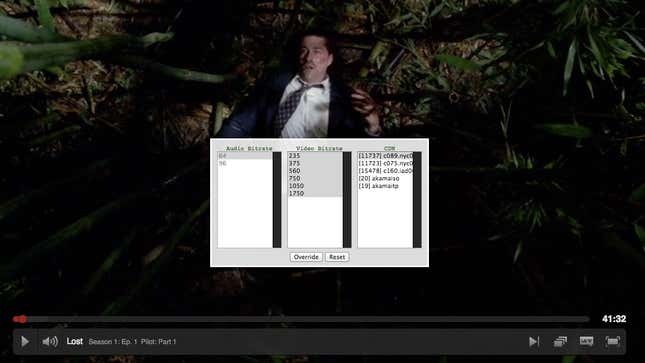 It allows you to change both your bitrate and the CDN (content delivery network) from which your video streams. Highlighting two bitrates will ensure that your video streams in between those two selections. While most users probably want the highest bitrate possible, you may want to opt for a lower bitrate if you're simultaneously downloading a large file while watching a video.
Control+alt+shift+D
That reveals a page of statistics about your video: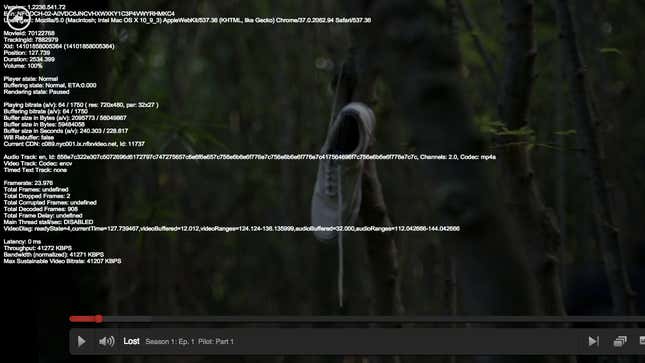 This page shows the bitrate, framerate, and buffering speed (among other stats) that your video is currently playing at. It also shows which CDN you're getting your stream from. You can actually open this page in the background of the stream manager, so that you can see how the changes you make actually adjust the quality of the video stream in real-time.
Control+alt+shift+L
This reveals a log of information about your video: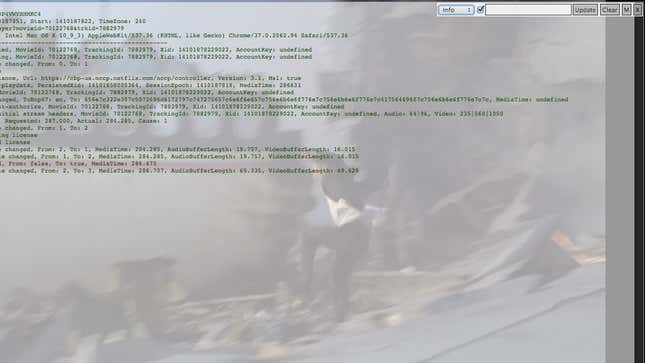 The log page will track any adjustments you've made, as well as show you whether or not you've paused the video, changed the volume, added a subtitle track, etc. You can also change the menu in the top right to give you a series of slightly more nerdy options. It's possible that if you were to call a customer service rep on the phone to fix an issue, he or she might prompt you to bring up one of those other menus to troubleshoot.
Alt+shift+left click will bring up a menu with all of the these options and a separate page to adjust audo-video synchronization, but it doesn't seem to work on OS X.
The quality and connection speed of Netflix streams has been a popular topic lately, as the company has signed deals with some major internet providers to have a more direct connection to their customers. Netflix users may often feel like the quality of their video streams is out of their control—and, for the most part, it is—but thanks to a few clever Redditors, you can now do some simple quality control yourself.