At times, the prospect of Scottish independence turned investors skittish in recent weeks. But the Scots' decision to stay in the UK didn't affect investors much. Instead, the large stock markets all seemed to take their cues from the sturdy economic growth of an actual breakaway from the British: the US.
US jobless claims data neared post-crisis lows this week, suggesting the job market remains sturdy. But the Fed, which deftly navigated yet another communications challenge at its meeting this week, doesn't look eager to rein in growth any time soon. Oh, and inflation remains beautifully muted. The result? An economy that looks increasingly Goldilocks-like, as Alan Greenspan might say.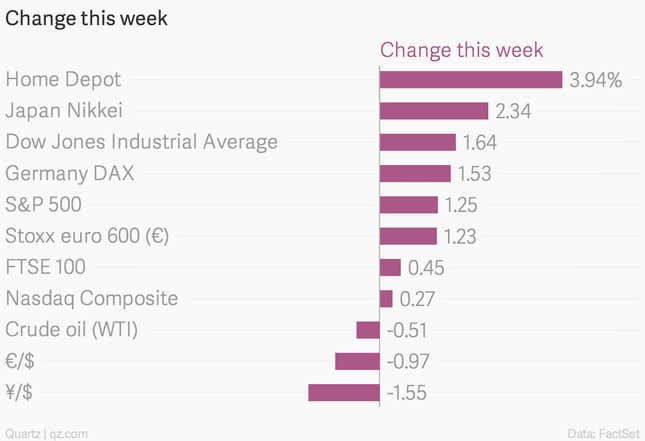 In other words, the economy is running strong, and interest rates—while a bit higher over the last month—are nowhere near what history would consider "high." Perhaps that's why a fresh survey showed US homebuilders see good times coming, helping to drive Home Depot shares up nearly 4%. The Dow Jones Industrial Average ended the week at a new record high.
The optimism about the US economy—which seems to have the most momentum among the larger developed economies—continues driving up the value of the US dollar. In fact, the dollar is up 1.5% against the yen this week, helping to give Japanese stocks—such as shares of North America-focused Honda—a lift.
The strong dollar also is helping to drive crude oil prices down, which should be a boon for US consumers in the form of cheaper gasoline prices. Now over in Europe, there was a bit of relief over the vote in Scotland. But truth be told, the broader Euro Stoxx 600 index seemed to get more of a lift from the solid performance of the US economy—European stocks rose more on the US jobless claims numbers—than they did from Scotland's decisive "nay."