The pairing of apparel brands with other labels or celebrity names to boost profits is old hat in the fashion world. Take, for instance, Missoni and Target, Karl Lagerfeld and H&M, and Kanye West's collaboration with A.P.C. But another kind of collaboration is on the rise among apparel brands: the pairing of designers with artisans in developing countries.
US and EU-based fashion companies such as Suno, Maiyet, and J.Crew have paired with skilled workers in developing countries to combine local production techniques with fashion-forward designs. For Western brands, the collaborations add to the allure and distinction of their products—all while aiming to promote social good. For example, luxury label Maiyet has partnered with the non-profit Nest, the RASA Charitable Trust and architect David Adjaye to create a weaving workshop and community center in Varanasi, India.
A new program put on by the International Trade Centre—a joint agency of the World Trade Organization and the United Nations—may speed along such endeavors. Earlier this week, while much of the fashion world had an eye on Milan Fashion Week, industry heavies such as LVMH executive Pauline Brown, consultant Julie Gilhart, and Parsons School of Fashion dean Simon Collins all gathered to watch a fashion show at a very different venue: the UN headquarters in New York.
Models walked the runway in garments that featured weaving, knitting, and embroidery by women from Palestine, Peru, Papua New Guinea, Mongolia, India, and Ethiopia, designed by students from Parsons and the London College of Fashion. Rather than attendees coolly snapping cell phone photos from the front row, guests in the UN dining room—some fully covered from head to toe, others in rainbow-woven tank dresses that showed off Papua New Guinean tattoos—stood whooping and cheering with wide smiles. It was their work walking the runway, and they were proud.
After the show Lisa Smilor, executive director of the Council of Fashion Designers of America, said she would be telling designers under the CFDA umbrella about the program, so they too could consider partnering with the women whose work was displayed on the runway. Here are just a few of the artisanal wares we spotted there.
Palestinian embroidery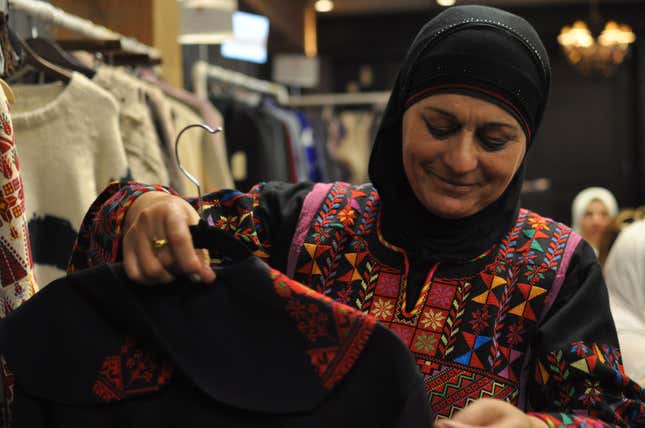 A traditional bell-sleeved Palestinian thob fully covered in bright, tightly-embroidered stitches may appeal to some Western bohemians.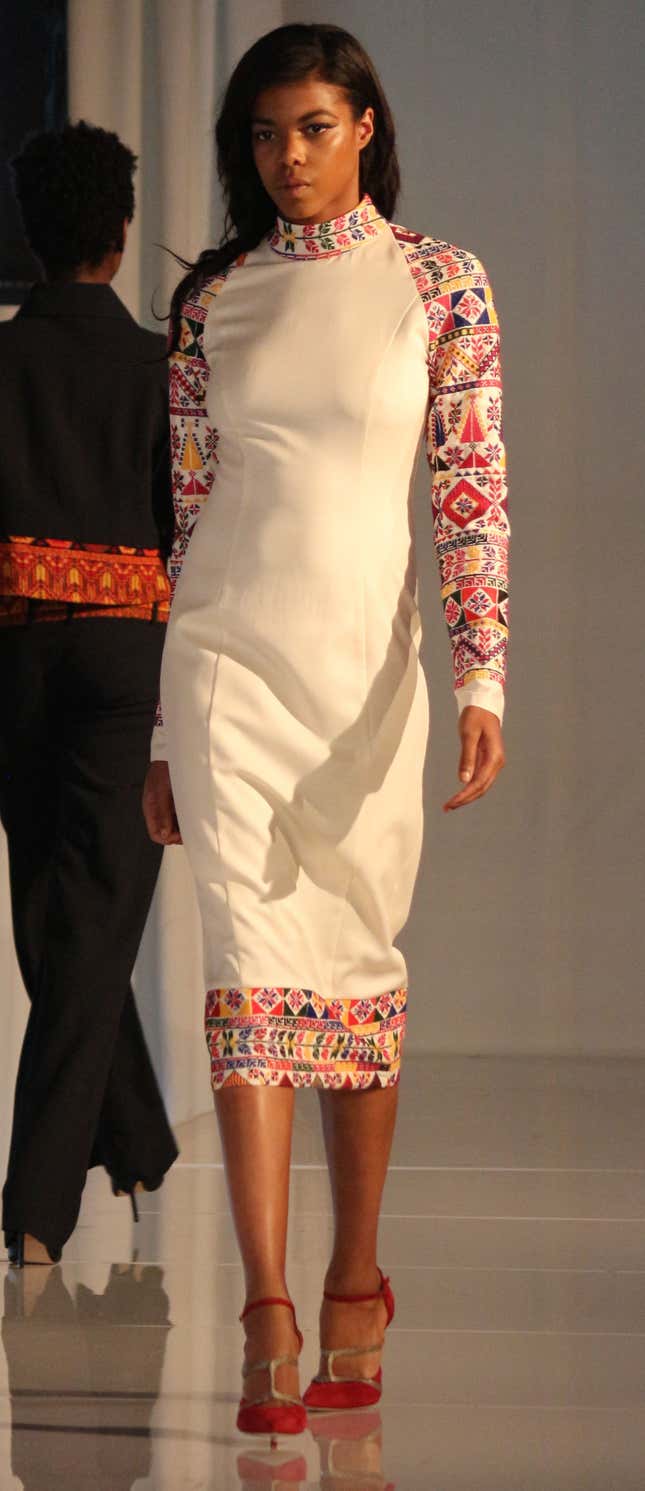 But when the embroidery of Artezana and Women of Palestine—both female-run companies that allow female breadwinners to earn income from their homes—is applied to the bust of a strapless dress or the sleeves of a close-cut sheath, its market potential widens considerably.
Artezana co-owner Rehab Daqawiyeh told Quartz that each panel for a single dress is overseen by one of about 20 women who help maintain control quality and consistency between the embroiderers, ensuring the cottage industry could provide the necessary consistency for fashion clients.
Peruvian alpaca knits
As Quartz has written, there are many reasons to love alpaca knitwear. Add to those reasons the pop-colored pom poms on a jacket (pictured at top) designed by London College of Fashion student Katie Bendall and produced by Elena Calatayud Rosado, who employs some 250 hand-knitters in Puno, Peru.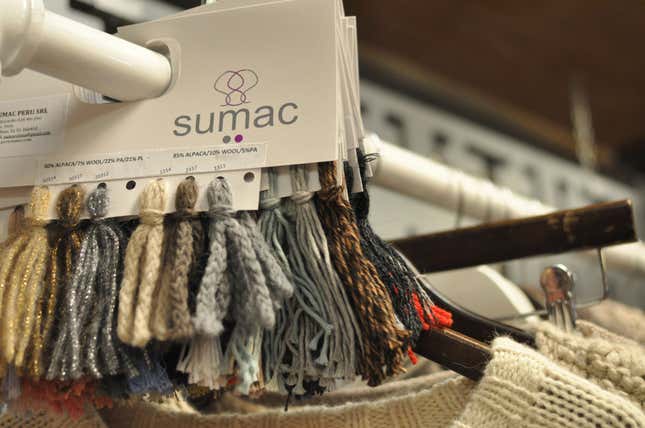 Rosado is no stranger to the fashion industry; she already produces goods for Baby Dior, Hermés, Agnes B., and New York-based favorite Rachel Comey—and she hopes to launch her own label under the Sumac name.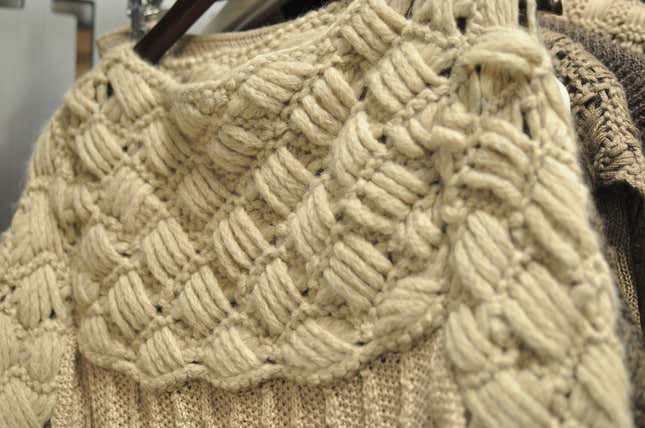 Rosado's samples of thick-and-thin, baby-soft sweaters and fuzzy, cropped pullover vests bode well for Sumac's future designs. (This reporter purchased a sample.)
Ethiopian weaving
In her native Addis Ababa, designer Mahlet Afework employs weaving techniques usually reserved for the traditional, shawl-like coverings known as netelas for more modern pieces such as canary yellow pencil skirts, boxy gauze blouses, and graphic-patterned bomber jackets which she sells under her own label, Mafi.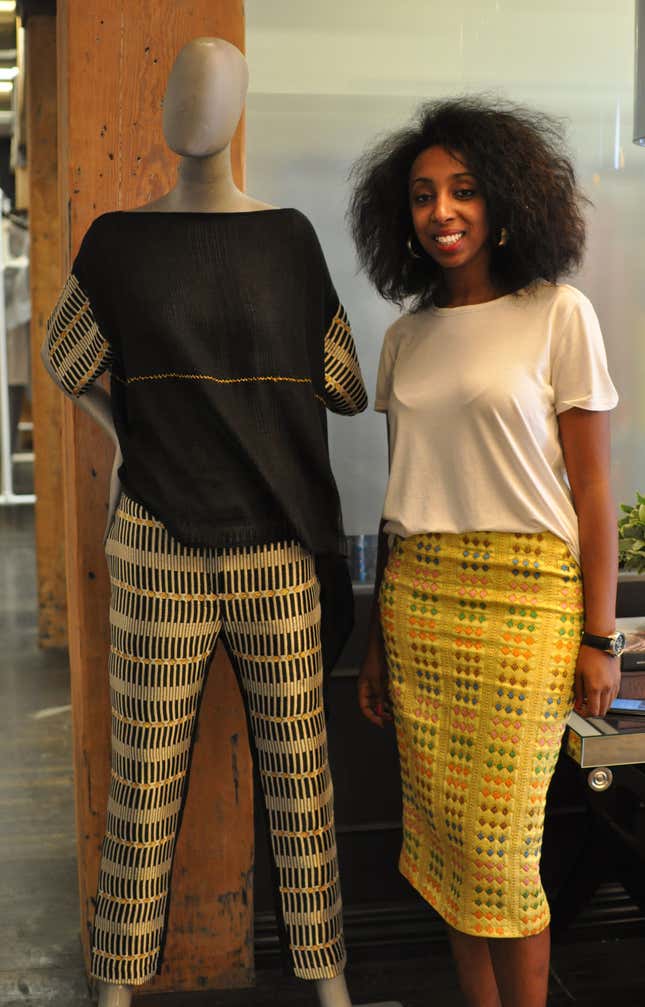 Afework has a store in Addis Ababa, and is seeking international distribution for Mafi. In addition to the nine workers in her workshop, Afework outsources weaving to about 20 women in the area. Although she is now considering producing her special woven fabrics for other labels, Mafi remains her focus. "I want it to be a global brand," she says.