The arbitrage opportunity for selling Apple's new iPhone models in China, where users are unable to buy the phone legally, is shrinking quickly.
When news that models of the iPhone 6 and iPhone 6 Plus would be going on sale late on the mainland, dealers in nearby Hong Kong and around the world expected a windfall from selling smuggled iPhones to Chinese Apple fans. Gray market price surged to almost $1,500 over the weekend.
But an influx of phones for resale is pushing prices down. Analysts estimated that as many as 5 million iPhones could be smuggled into the country from Hong Kong, the United States, Japan, and other countries where the phone was released on Sept. 19th.
The resale price for a 16GB iPhone 6 fell to just above 6,000 yuan yesterday, from over 8,000 yuan on Sept. 22, according to iPhone merchants in Beijing interviewed by the South China Morning Post this week. That's only 1578 yuan, or about $300, more than the official retail price of the phone in Hong Kong of HK$5,588 or 4,422 yuan. The decline, according to the resellers interviewed by the SCMP, looks something like this: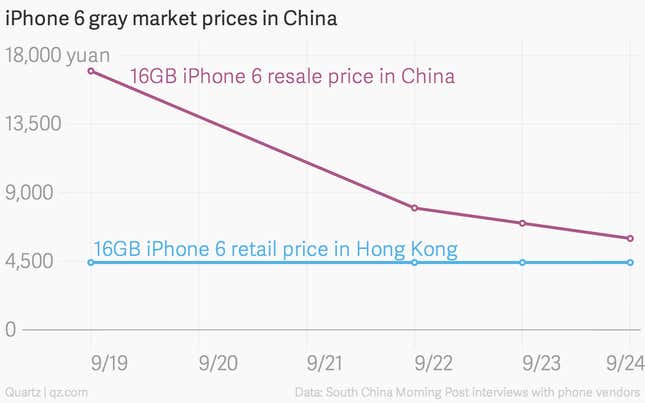 A blogger in Guangdong said prices for the 16 GB iPhone 6 had fallen to as low as 5,300 yuan on Sept 23. "The scalpers will cry," the user wrote (registration required).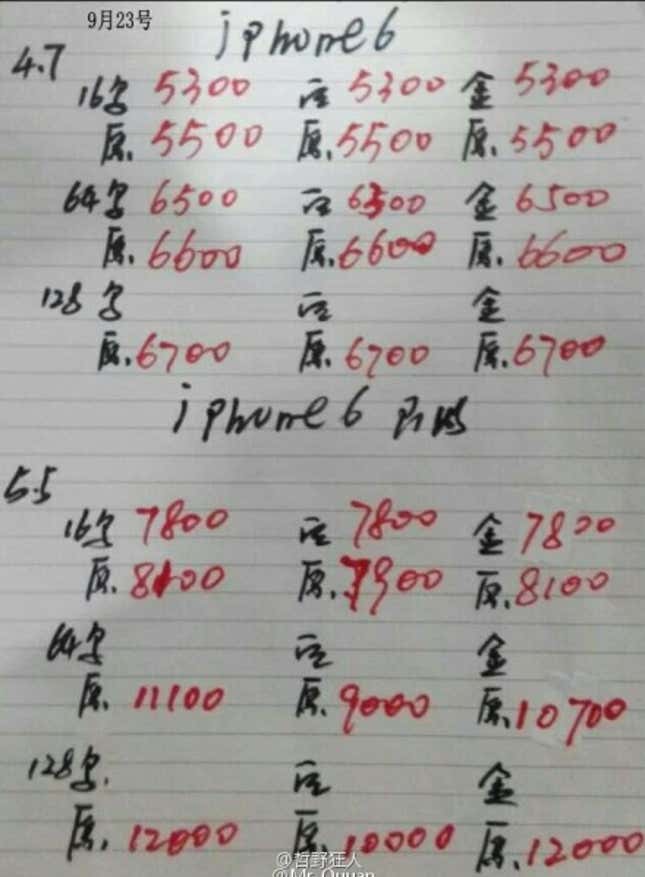 Now, phone vendors in China are racing to sell their iPhone 6 supplies before the phone goes on sale in stores—last week, officials said that the new phone models had cleared two regulatory hurdles but still needs a network license.