HONG KONG—Thousands of pro-democracy protestors continued to block Hong Kong's streets this morning, forcing some of the city's biggest companies to ask staff to stay home, and prompting the territory's central bank to set emergency plans in motion.
After police fired tear gas at "Occupy Central" protestors on Sunday night in Hong Kong's central business district, demonstrations spread overnight to at least three other busy districts, spreading Hong Kong's police force thin.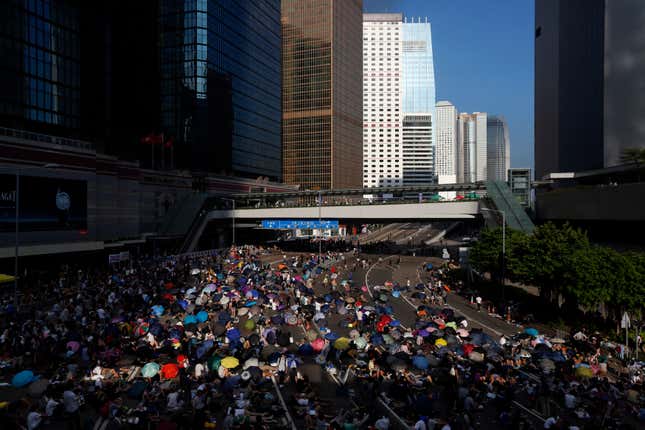 Exhausted students napped on sidewalks and in the center of roads, shared food, and sang songs. Students with garbage bags moved through the crowd, picking up cigarette butts and other litter, while organizers cleared public crosswalks so that pedestrian commuters could get to work.
The students were joined last night by thousands of other recruits, who said they'd been drawn to the protests after seeing footage of police tear-gassing students the night before. "If a group of students is expressing their opinion in a peaceful way, I think we should support them," Anthony, a 27-year old marketing executive, told Quartz.
The stated aim of some demonstrators—to bring one of the world's most important financial districts to a standstill until demands for free elections are met—seems to be working, at least partially. Companies including Ernst & Young and CITIC told their employees to stay home, the city closed schools in several neighborhoods and stores closed. Branches, offices, and ATMs of more than a dozen banks have been temporarily closed because of "public disorder," the Hong Kong Monetary Authority said in an emailed statement, and the HKMA has activated "business contingency plans." Over 200 bus routes have been either canceled or diverted and several metro stations near protest sites were either closed by officials, or barricaded by protestors.
Normally bumper-to-bumper traffic was non-existent in the early hours of the morning.
Within 30 minutes of markets' opening, Hong Kong's Hang Seng index was down more than 1.6%.
Response in China has been swift. Public discussion and images of the demonstrations are quickly being scrubbed from the Chinese internet: Instagram appears to have been blocked in mainland China, and discussion of protests was scrubbed from the microblog Weibo. Chinese news organizations have been instructed to delete any information on the "Hong Kong students violently assaulting the government" from their websites, although the state-owned China Daily, which publishes in English, carried a lengthy account of the "illegal assembly" and "unauthorized sit-in" that "spun out of control."
Currently, the top story on the English-language version of Xinhua, China's state news wire, is about praise for president Xi Jinping's speech about reunification with Taiwan.
That point of view seems to be absent in Taiwan itself, where Taiwanese students are now holding a sit-in at the Hong Kong Hong Kong Economic Trade and Culture Office, in Taipei, in solidarity with Hong Kong: