Hong Kong's pro-democracy activists slowed parts of the city to a crawl on Monday, with schools and shops shut because of the "Occupy Central" protest that began over the weekend. After the workday came to an end in Hong Kong, crowds of protesters grew even larger, a sign that the city may be in for several more days of mass civil disobedience.
The protests have spread quickly to include many more residents than university students and pro-democracy activists, spurred in part by police tear-gassing students last night. The Hong Kong Professional teachers union is asking members to strike, secondary school students are boycotting school, and Coca-Cola delivery staff are staging sit-ins.
The original Occupy Central movement was sparked by Beijing's refusal to allow Hong Kongers to elect a candidate of their choice to run the city, but some protesters are now demanding that the city's current chief executive resign.
Rating agencies Fitch and Standard & Poor's say the protests will have no short-term impact on the city's credit rating, but any extended slowdown of Hong Kong's regular commercial activities could have long-lasting ripple effects on everything from global banking to insurance, shipping, and China's currency.
That's because Hong Kong remains a global powerhouse for trade, finance, and insurance, thanks largely to its position as a gateway to mainland China. The value of goods traded via the island city totaled $977 billion last year—5.2% of the world's overall $18.8 trillion in trade. 
Hong Kong consistently ranks as the world's third-most important financial center, behind London and New York. It has steadily closed the gap with its Western counterparts in recent years, as measured by assessments of the ease of doing business, tax laws, its talent pool, according to global financiers (pdf):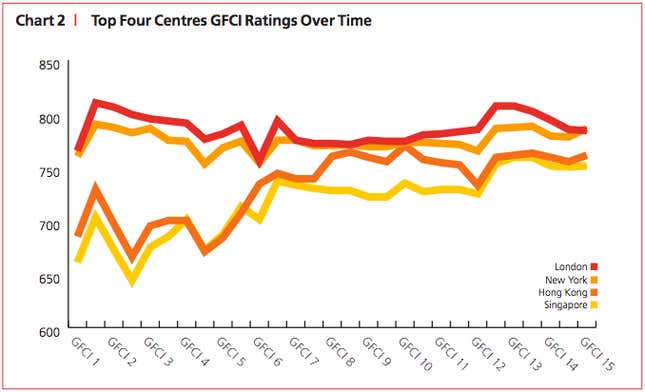 Hong Kong is the main gateway for foreign direct investment in China. Mainland China attracted $124 billion in global investment (pdf) last year, and, based on previous years, about half of that amount is likely to have flowed through Hong Kong.
Hong Kong is home to more than 3,700 regional offices for overseas companies, and more than 80% are responsible for those companies' business in China, thanks to Hong Kong's robust rule of law, according to the American Bar Association. About 60% of China's outbound investment is channeled through or directed to Hong Kong, the Hong Kong government estimates.
Hong Kong's gateway role is reflected in the massive size of its banking industry, with assets worth around eight times the city's GDP. Some 40% of Hong Kong banks' HK$9 trillion ($1.15 trillion) in foreign claims are now extended to borrowers in mainland China, up from only 5% a decade ago: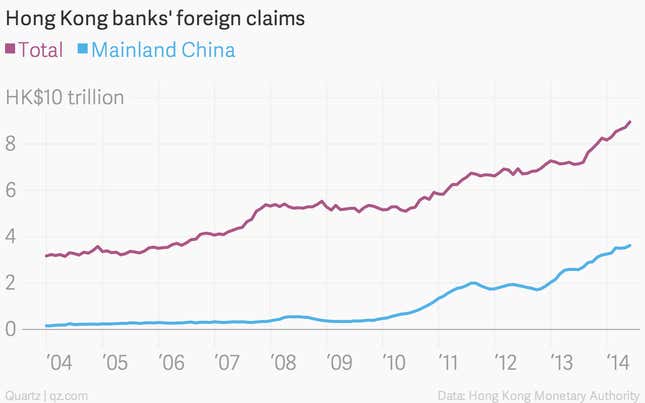 The city is also an important source of fee-generating business for investment banks, accounting for $502 million in fees in the first half of this year, according to Thomson Reuters. That was around twice the amount that i-banks made in places like Singapore, South Korea, and Malaysia over the same period. Earlier this month the city's bankers broke new ground by ushering in the market's debut Islamic bond, worth $1 billion. The issue vaulted Hong Kong to fifth place in the year-to-date rankings of Islamic banking centers, a fast-growing space.
The city is also the world's fifth-largest foreign exchange trading center, and the largest center for renminbi trading. Trades with the Chinese yuan made up $49.5 billion of Hong Kong's $275 billion in average daily FX turnover in April of last year: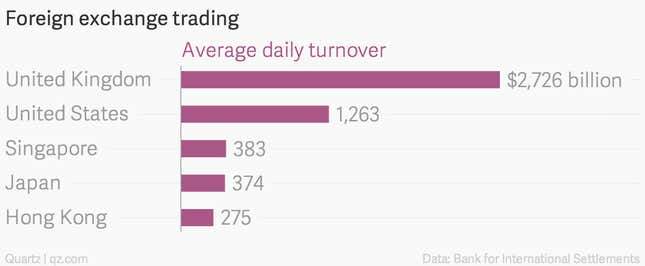 Hong Kong accounts for 72% of all offshore renminbi-denominated currency payments (paywall), according to data from Swift, a global payments system.
Alibaba's blockbuster IPO in New York this month led to some soul searching in Hong Kong, which the Chinese e-commerce giant spurned because it didn't like its rules on shareholder voting rights. Still, Hong Kong remains a popular venue for initial public offerings, the second-largest in the world in terms of capital raised over the past decade, fueled by mainland firms raising money in the city: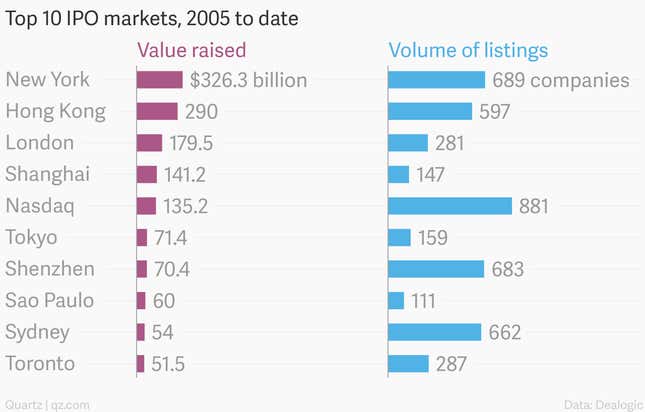 But volatility is anathema to IPOs, and Hong Kong's stock market will probably be beset by it for the foreseeable future. A gauge of volatility jumped by more than 20% in trading today, and this cloud hanging over the market might scare away companies looking to list. Hong Kong's Hang Seng Index, meanwhile, closed down 1.9% on Monday. (Needless to say, low valuations are also a deterrent to IPOs.)
The city also serves as a regional hub for the insurance industry, with a large and growing premium base. More than $36 billion in premiums were written in Hong Kong last year, up more than 10% on 2012, according to Swiss Re (pdf). The global insurance industry recorded premium growth of only 1% over the same period. Hong Kong ranks in the global top 10 insurance destinations by premiums per capita: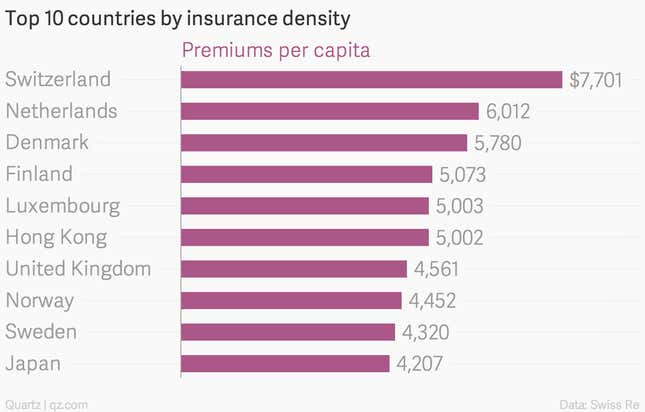 Hong Kong is also one of the world's top five cargo ports, with about three times the annual cargo volume of the US's largest port, Los Angeles. Most of the cargo that flows through Hong Kong's port is raw materials entering China and finished goods leaving the area.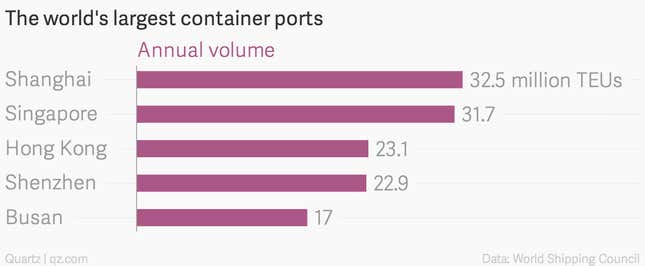 Because Wednesday and Thursday this week are public holidays in Hong Kong, the number of protesters is only expected to increase, as the city's workers join demonstrations during their free time. Global businesses—particularly those with interests in China—will hope that the city's residents return to work soon.