Tear gas versus umbrellas—it's a pretty unfair fight. But alas, the Hong Kong police's crackdown on pro-democracy protesters over the last few days reflects a larger power imbalance between Hong Kong and its Communist Party overlords.
Hong Kong was once a crucial gateway for trade, investment, and capital-raising for its northern neighbor—a role that the 1997 handover only intensified. At first, at least. But China's economy is less dependent on Hong Kong now than ever before. Though Hong Kong GDP isn't counted as part of China's overall GDP, here's a sense of how the territory's share would look if it were: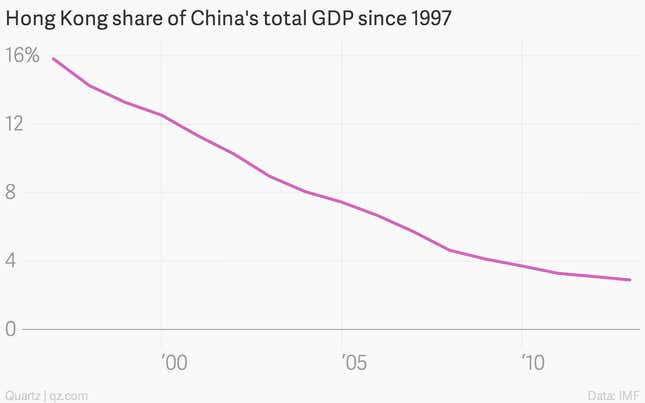 And as Hong Kong's utility as a trade route into the mainland has dwindled, the territory has itself become more dependent on the mainland for its trade.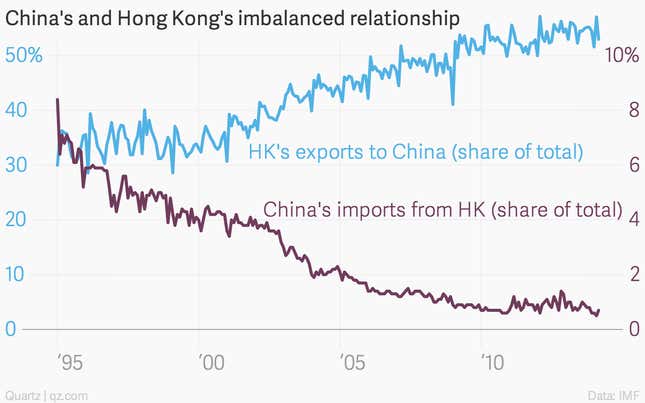 And, as Capital Economics pointed out in a note this morning, a tenth of Hong Kong's GDP comes from tourism and retail, which will likely suffer if protests drag on.
In other words, China's leaders may think they have little to lose by cracking down even harder on protesters—and less to gain by reversing their ban on universal suffrage in 2017, the source of the unrest (in August, the Chinese government said that candidates in the 2017 election must first be selected by a committee of pro-Beijing businessmen).
Any compromise on that point might stoke similar demands from the four other territories and countries that the People's Republic claims: Macau, Tibet, Xinjiang, and Taiwan. (The first three are mainland territories; Taiwan operates entirely independently, despite the PRC nominally claiming it as its own territory.)
The fact that students in Taiwan are aligning with the Hong Kong demonstrators—and that Ma Ying-jeou, Taiwan's generally pro-Beijing president, is supporting them—threatens the Communist Party's policy of "reunification." Meanwhile, an insurgency in Muslim-dominated Xinjiang is quickly gathering momentum.
Of course these are the reasons China's leaders might think they should maintain a hard line. There are plenty of ways that violence in Hong Kong could hurt the mainland. As we noted earlier, the territory is still a crucial inroad for foreign investment in China. Its capital markets provide vital foreign capital for Chinese companies.
Untold sums of personal, corporate, and government official wealth has gushed from the mainland into Hong Kong's real estate market, causing home prices to more than double since 2009. A crackdown would almost certainly hurt Hong Kong's property market, putting its banking sector at risk—and it would also likely drive up bad loans for the (much less well-capitalized) mainland too, if Hong Kong property is being used as collateral for loans (and hurt the net worth of government officials).
And since Hong Kong is the global center for yuan trading, it is also a portal through which huge sums of liquidity flow, through both real and fake trade financing. China's leaders don't seem to actually understand how dependent their country's financial system is on these ever-rising tides of liquidity coming in via Hong Kong. And they may not realize how easily a liquidity crisis could occur if, God forbid, they do decide to call in the tanks.