If coffee or a bagel are a frequent part of your breakfast, there's a good chance that J.A.B. Holding Company (formerly Joh. A. Benckiser), a German conglomerate run on behalf of the four very private multi-billionaire Reimann siblings, will have a hand in your morning meal.
The company announced today that it would buy Einstein Noah (paywall), America's largest retail bagel chain for about $374 million, on the heels of several large deals that left it in charge of one of the world's largest global coffee empires.
Einstein Noah is a public company that owns Einstein Bros. Bagels, Noah's New York Bagels, and Manhattan Bagel. It's dwarfed by competitors Dunkin Donuts and Starbucks, which have entered the bagel game, but remains much larger than any other bagel-only chain. As of July 2014, it had 857 total stores including those that are franchised or licensed. It will be run as a stand-alone company within the conglomerate.
The company's coffee presence is much more impressive. First came a billion dollar buyout of West Coast favorite Peet's coffee in late 2012, followed by a $340 million purchase of a majority stake in Caribou Coffee in early 2013. Later that year, the company made a nearly $10 billion megadeal for coffee giant Douwe Egberts. And last year, it paid $5 billion for a majority stake in a company combining Douwe Egberts and Mondelez's coffee brands into Jacobs Douwe Egberts.
Leaving aside Peet's and Caribou, J.A.B. controls a company with more than 15% of the coffee retail market by retail value, second only to Nestle. J.A.B. is the largest by retail volume according to last year's figures (Nestle trumps J.A.B. in the value of coffee sold because of its Nespresso business, which costs more than brewed coffee by volume):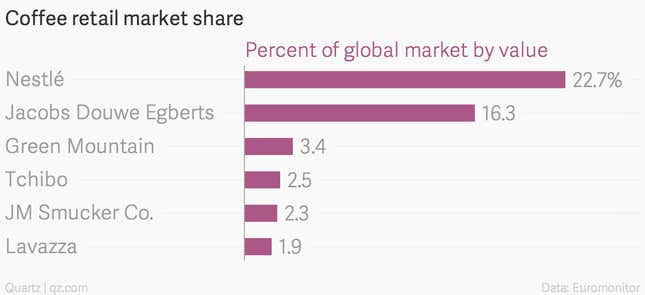 In Einstein Noah, J.A.B. is taking on something of a challenge. Bagels are now omnipresent, available frozen, at just about any coffee chain, and as part of a fast food breakfast. The company has been struggling somewhat; sales are flat and growth sluggish as it attempts a turnaround plan.
Hedge fund manager David Einhorn, the company's biggest shareholder, plans to approve the deal.
J.A.B. isn't a typical investment vehicle. Rather than just taking large stakes in big companies (its majority stake in beauty company Coty being the exception), or flipping businesses for a profit, the firm tends to buy companies or brands in their entirety, not just food but also luxury brands like Jimmy Choo and Bally, and run them. Instead of investment managers, it's led by three high profile CEOs.
J.A.B. seems to be betting on breakfast as a long term winner, this deal raises its total breakfast and coffee investments to more than $15 billion.