Luxury fashion has a conflicted relationship with e-commerce. Luxury prizes exclusivity, a characteristic that tends to lose meaning on the web. If everyone—everyone with a web browser and a high credit limit, anyway—can access the most coveted handbag, coat, or pair of sneakers, those items lose their niche appeal.
That's why luxury leviathans including Chanel, Dior, and Céline keep their latest collections off of the web, forcing the fashion-forward—and their personal shoppers—to hunt down in-season products in person. High-end fashion brands more enticed by the e-commerce boom flock to luxe e-retailers like Net-A-Porter, Yoox, and Neiman Marcus's MyTheresa, which cloak their mass appeal in white-glove service, sophisticated website designs, and orders wrapped in fancy packaging.
But even those e-commerciers can't satisfy those who crave the experience of browsing little-known high-end brands in cozy-chic boutiques. The site Farfetch is going after just that customer, hunting down the world's most exclusive brick-and-mortar boutiques to help them sell their wares online.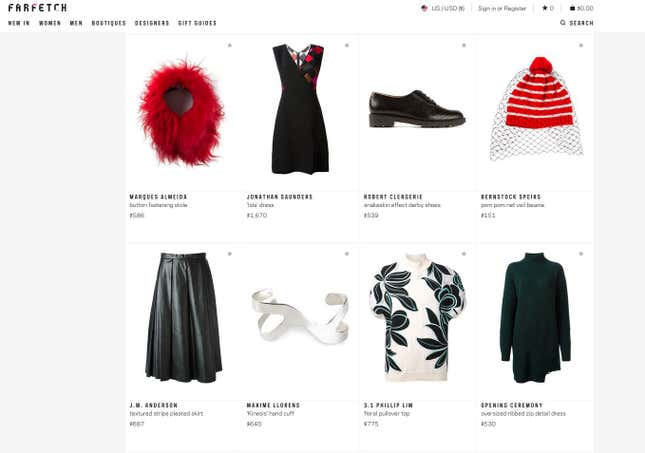 At first glance, Farfetch's site feels similar to that of Net-a-Porter: Customers can shop by clothing category or designer and browse editorial features. Both sites mix staid luxury labels such as Gucci, Saint Laurent, and Givenchy with smaller names like Simone Rocha, Isa Arfen, and Rupert Sanderson.
But here's the important distinction. Whereas Net-a-Porter's buyers purchase the site's inventory directly from fashion brands, Farfetch owns none. Farfetch's wares—all 105,000 of them—ship from nearly 300 boutiques around the globe, which allows the site to offer more small, independent labels. Looking for a different overcoat than the ones storming your city's sidewalks? Farfetch might offer you one from little-known Dutch brand Nanushka, sourced by a Maastricht, Netherlands-based boutique, Stylesuite.
Farfetch's owner, José Neves, who founded the company in 2008, says this setup provides Farfetch with a global community of fashion-savvy curators, each with their own point-of-view. "Many of these businesses, they're family-owned. They're small. They're a labor of love, of very creative and discerning people," he says.
Here's how the business works: Each boutique gets its own short, stylized profile produced by Farfetch's team. Boutiques fulfill their own orders made on the site, shipping directly to customers, which Neves says adds to the mystique. "Once [customers] get a beautiful package from Paris—on time—with an item that they could not find anywhere else, with a little card written in French, they get really seduced by the experience," says Neves. "[Then] people do tend to shop from the same boutique. They still browse the whole website, but they remember the boutiques they shopped, and there is a bias towards them."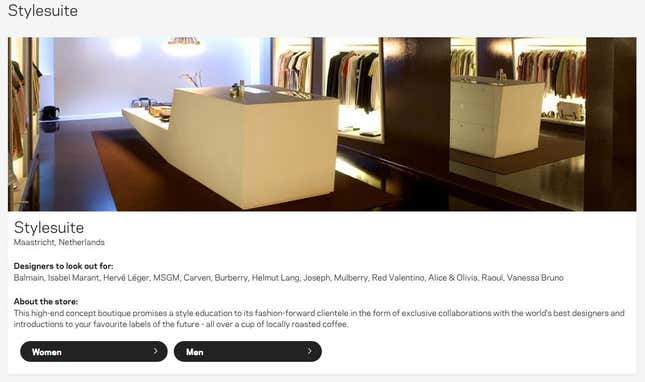 The concept sells itself to boutiques. In exchange for a commission paid to Farfetch for each sale, boutiques get a ready-made e-commerce platform and broader customer base.
The company has grown from $15 million in annual sales in 2010 to $325 million so far this year. This year's sales to-date have already doubled last year's. And its monthly unique visitors have risen 44% from last year, to seven million.
But the business comes with high costs. Recreating the luxe experience of perusing hundreds of global boutiques isn't easy—or cheap. The company runs three photography studios in Porto, Los Angeles, and Sao Paulo, where stores send samples of every item offered on Farfetch to be photographed. Keeping up with those kinds of production costs has hurt the bottom lines of other fashion e-retailers, including the flash sale site Rue La La and Amazon's apparel business.
Frederic Court of Advent Ventures, an early investor and board member for Farfetch, says the site makes up for its high-gloss investments by spending less on other overhead and inventory.
"We obviously get less margin than the boutique, but we don't have all the cost of having a warehouse and committing to products early on and having unsold items," says Court. He notes that Farfetch's business in Europe, which handles most of its production work, is already profitable.
Beyond that, Court attributes Farfetch's fast growth to its unique products. "We are connecting consumers all around the world to the best fashion buyers and creators," he says.
The company has raised roughly $100 million since 2010 from firms including Vitruvian Partners, an investor in restaurant delivery service Just-Eat, which recently went public on the London Stock Exchange, and Condé Nast, which has backed the fashion sites Rent the Runway and Moda Operandi. The company plans to use its latest $66 million in fundraising to go farther afield to places like China, Japan, and Russia.
It's also banking on rapid growth in mobile, which already accounts for one-quarter of Farfetch's traffic. To that end, this autumn the company launched a travel and shopping app called Discover, which it hopes will both endear customers to its boutiques and drive mobile sales. The app features boutiques in Farfetch's network, along with store owners' favorites spots to eat, drink, sleep, and shop in a growing list of cities including Rotterdam, Lisbon, London, and Los Angeles.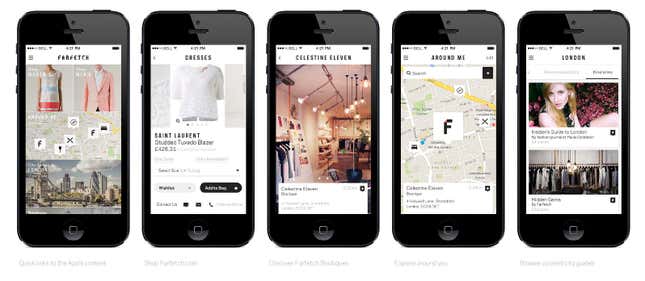 On both the website and the app, Neves hopes to capture what he calls the "slow" and "fast" experiences of shopping. "The fast experience is when you know exactly what you want, the size you want, and you want to get done with it. You're on your smartphone, three, four clicks and that's it," he says.
"But we also offer the slow experience. If you really want to be immersed, take our app. You can check a city guide, an itinerary, by that discover a boutique, and by that, eventually buy from the boutique."
In other words, perusing is a cherished part of the luxury experience—so long as you eventually buy.