HONG KONG—A resolution to the protests that have swept Hong Kong for the past two weeks drifted even further away today.
Ahead of talks between students and the government planned for tomorrow, protesters announced a new wave of civil disobedience, partnering with sympathetic lawmakers who vowed to veto government funding measures until concrete political reform is passed. Within a few hours, the city's second-in-command, chief secretary Carrie Lam, abruptly called off the talks, saying it was "impossible to have a constructive meeting" with student leaders.
The moves threaten to intensify the unrest, after days of relative calm in which protesters ceded territory, officials stressed the importance of dialogue, and police kept their distance from demonstrators.

Beijing has stated unequivocally that it will not reconsider an August 31 ruling that candidates for Hong Kong's highest office will be selected by a committee dominated by largely pro-China loyalists, and not nominated by the public. Lam said that the students had not met the government's conditions for negotiations, namely that the discussions were "to be within the framework" of Beijing's decision and not be linked to the Occupy movement.
"This is proof that the government has no intention to meet at all, they are just finding excuses to refuse meeting," student group Scholarism said in a statement. Before the government called off talks, Scholarism leader Joshua Wong said students would launch another wave of class boycotts—schools reopened this week—and street protests every day if their requests weren't met. For its part, the Hong Kong Federation of Students called on its supporters to come out: "The government has shut out dialogue, we will hold the streets." Student leaders are planning a mass rally tonight in Admiralty, the main protest site.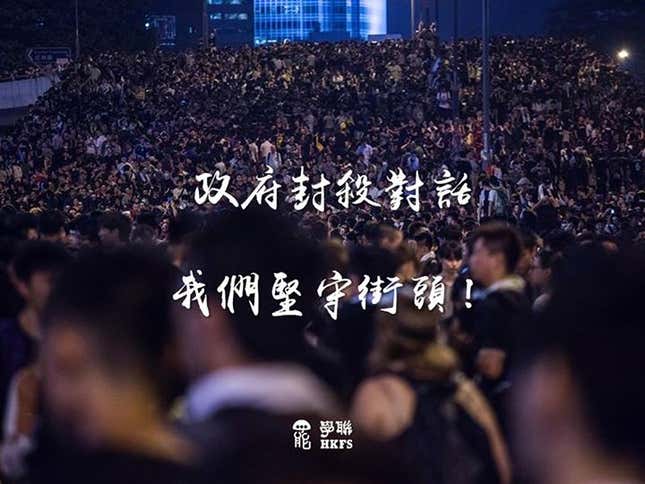 A reinvigorated protest movement, allied with pro-democracy legislators, could make things increasingly uncomfortable for the Hong Kong establishment. Pro-democracy lawmakers occupy 27 of Hong Kong's 70-member legislative council seats, and they may be able to exert an outsized impact on what gets funded in the city next year.
In recent days all but one of these council members applied to be on the "public works" and "establishment" subcommittees, which approve funding for public projects and nominate directors to the finance committee. Pro-democracy members now outnumber pro-establishment legislators on both subcommittees. Chairman of these committees are elected by a simple majority, and have huge sway over the outcome of funding proposals.
The administration of Hong Kong chief executive Leung Chun-ying, better known as CY Leung, has "has lost its legitimacy to govern," Hong Kong legislator Alan Leong said at a press conference held at the epicenter of the protest movement, a public space outside government headquarters that protesters have now dubbed "Umbrella Square."
Friction between the pro-democracy legislators and their pro-Beijing peers has already resulted in numerous showdowns which threatened to cripple the city financially even before the protests erupted. Hong Kong's annual budget was only passed after a 130-hour filibuster that left several departments critically short of cash, and only after three pro-democracy lawmakers were were expelled from the proceedings.
The number of protesters has dwindled these week to the hundreds, after tens of thousands poured into the streets last week. Critics say local residents are growing impatient and that demonstrators are tired of a lack of results, but protesters say that supporters will be easy mobilize again. Speaking at the press conference today, Wong acknowledged that an escalation would further inconvenience Hong Kong residents, telling the crowd, "We try to use a short-term burden on our daily life to exchange for political reform and true universal suffrage."
For now, Hong Kong risks descending into near chaos, according to Emily Lau Wai-hing, a Hong Kong legislative council member. "Beijing's got to yield," she told Quartz ahead of today's press conference. "We are almost ungovernable," she said, gesturing to the roads outside of government offices, cut off by the protests that may be set to grow in the days ahead.