HONG KONG—The "Umbrella Revolution" is starting to lose some of its shine. Cigarette butts have started to litter the ground along a six-lane thruway in central Hong Kong that democracy activists have occupied for 10 days. One protester tucks a bottle of wine behind him as he sits with friends, a scene that contrasts with last week's hyper-organized demonstrators diligently doing their homework and separating trash.
Perhaps more important, protesters and leaders are disagreeing over where to occupy, and how to negotiate with the government—official talks are to begin on Friday and expected to last several rounds—and local residents are growing less supportive.
"It feels like nothing is happening and that's a big drawback," says Stephen Lee, 37, who was born in Hong Kong and has recently moved back here from the US. Lee and two friends are listening to speeches by student organizers attempting to rally more protesters. "I think the movement is getting a little too long," adds Leona Wu, 37, a piano teacher. "Some people may be losing patience."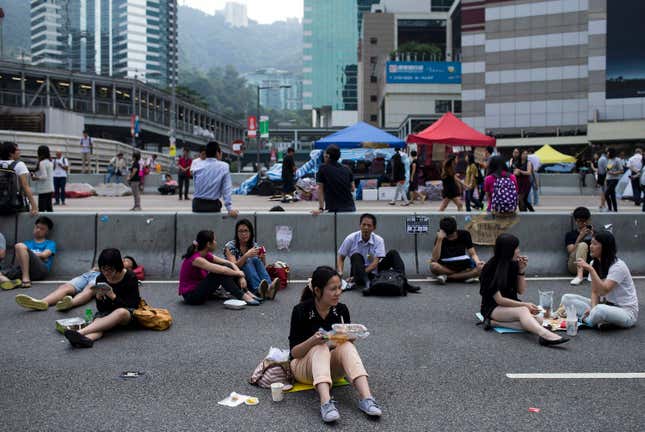 For Hong Kong and Chinese authorities, who have few options to quell calls for free elections, letting the protest movement slowly die may be their best strategy. Harsher tactics like arresting, pepper-spraying, or tear-gassing protesters have only brought out more supporters. And what some say were organized attacks by anti-protesters last week only prompted students to call off negotiations with the government and led to a peak in protesters over the weekend.
As the demonstrations enter their second week, numbers have dwindled, partly because protesters ceded some territory to deflate tensions ahead of what seemed to be an imminent showdown with the police on Sunday. Now, what was once a crowd of tens of thousands at the protests' epicenter now numbers in the hundreds, and only a handful remain at two other protest sites.
Much of the international press that flew in to cover the protests have now left.
Residents like Tai Cho Chi, 50, a taxi driver from Kowloon who says that he's lost about HK$200 a day since the protests started, have been opposed to the protests almost from the start. "Fandui, fandui—I'm against this, " he says in Mandarin, explaining that he has a 16-year-old son and a wife to feed. "Hong Kong is already free and developed. If there's work, that's enough. What good is an election?"
Even initial supporters say they worry the movement is losing momentum because it is testing the public's patience too much. "Disruption needs to be swift and decisive in order to be successful," says Karlson Leung, a graduate student at Oxford University. "When a protest drags on without end and with no viable objective in sight, what results is vast disillusionment and loss of support from the general public."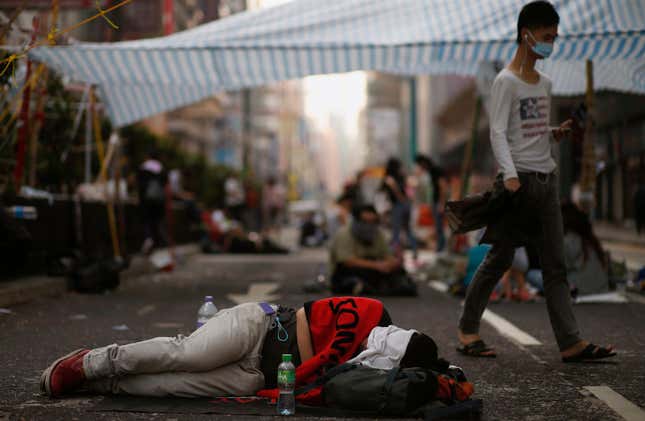 But what observers see as the beginning of a slow decline, protesters see as a new phase and in a few cases, some needed calm. In Mong Kok, the scene of assaults and violent clashes between protesters and opponents to the occupy movement last week, the group has taken to holding informal salons and responding to opponents by singing "Happy Birthday" to them. "This is a peaceful place, full of philosophical speeches, policemen among protesters, and birthday songs," Shepard Ng, 22 says of the scene at Mong Kok. Among the smaller crowd in Causeway Bay, a shopping district east of Admiralty, "blue ribbon" supporters—those opposed to the umbrella movement—and protesters were seen discussing their differences rather than fighting.
Student organizers are working to keep the momentum going. Speaking to a small crowd late Tuesday night, Joshua Wong, the 17-year-old head of the student group Scholarism, encourages the protesters to bring their mattresses as a symbol of their commitment to staying. Another protester says they would not be fooled by the "government's tricks."
"I think [the protest leaders] understand that this is a war of attrition and that Hong Kong people won't occupy for over a week," says Adrian Leong, 20. What is important, he says, is that the remaining three protest sites be maintained, even if they are not filled with people.
Outside government offices on Tuesday night, about two dozen protesters sleep on a concrete plaza with their coats draped over them. A few are still awake watching videos on their computers or browsing books from a makeshift community library.
"Maybe this seems like it's useless, but I've seen something beautiful here," says Christina Lau, 60, as she sits on a thin mat under a covered plaza outside of government offices, equipped with two books and a newspaper to keep her occupied until the morning. "Hong Kong people have started to think about their home, about their Hong Kong." Even if nothing comes of the protests, she says, "It makes me happy. Chinese people and Hong Kong people have hope."