Patrick Modiano, a French writer renowned for his novels about memory and identity, has been awarded the 2014 Nobel Prize in Literature. He's the 11th French writer to win, the most of any other country.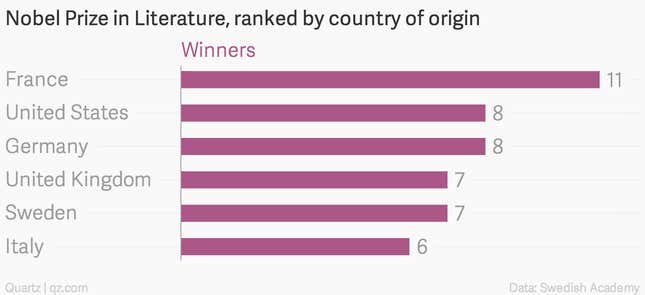 And he's the 14th winner to write in French, the most of any language other than English.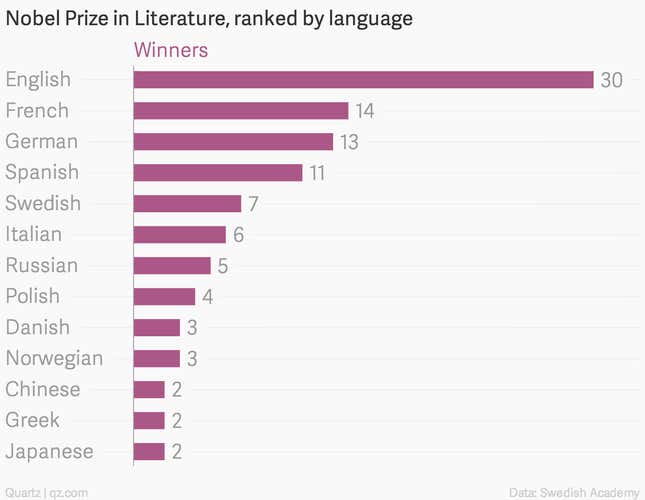 The permanent Secretary of the Swedish Academy—the organization that hands out Nobel prizes—said that Modiano was honored for "the art of memory with which he has evoked the most ungraspable human destinies and uncovered the life-world of the occupation."
Modiano is perhaps best known globally for his 1978 novel Rue des Boutiques Obscures (called Missing Person in the English version) about a detective who loses his memory, which won the Prix Goncourt.
The Nobel Prize in Literature has long been criticized for being too Eurocentric and possibly having an anti-American bias. American literary titans Cormac McCarthy and Philip Roth, among others, have yet to receive the award. Toni Morrison was the last American literature Nobel, in 1993.
In any case, this year America's disappointment is France's glory.