The numbers: A bit disappointing. JPMorgan Chase said Tuesday it earned $5.6 billion in the third quarter, up from a loss in the same period a year earlier when it set aside $9.3 billion for legal expenses. Revenue rose 5% to $24.25 billion.
The takeaway: The bank's legal issues aren't quite behind it. Though JPMorgan last fall agreed to pay $13 billion to settle charges stemming from its sale of residential mortgage-backed securities during the run-up to the financial crisis, the bank set aside $1 billion for legal fees in connection with a probe by US and UK regulators into alleged manipulation of foreign-exchange rates. JPMorgan estimated in August that it may need to spend as much as $4.6 billion to defend itself against lawsuits and investigations into alleged rigging of the Libor benchmark, losses in 2012 at JPMorgan's London-based investment office and other matters.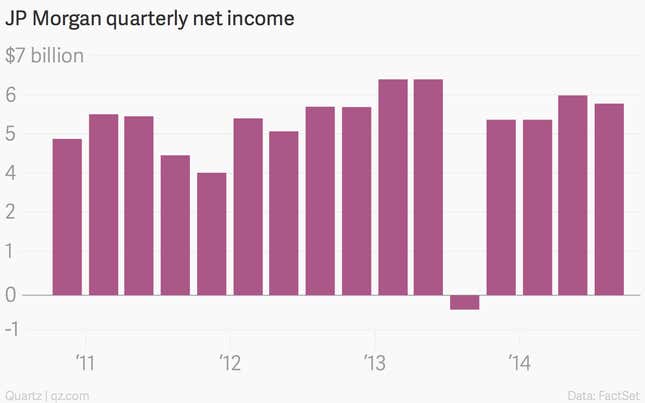 What's interesting: Bond trading showed signs of life. An uptick of 2% in revenue from trading bonds, currencies, commodities and other assets, to $3.5 billion, reverses a decline in the second quarter thanks to a bit more US interest rate volatility in recent months.  It could also mark something of a reprieve for Wall Street trading desks, which have been squeezed both by new regulations aimed at cutting down on risk-taking, as well as difficult market conditions over the last few years.