The territory occupied by Hong Kong's Umbrella movement protesters shrunk significantly today, after police cleared barricades along a major thoroughfare, allowing traffic through the center of town for the first time in weeks. Using sledgehammers and chainsaws, they made short work of makeshift barricades that were strengthened with construction materials and bamboo.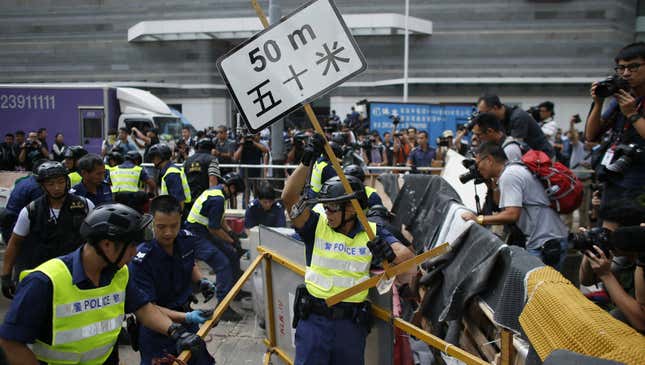 The dismantling of barricades on Queensway Road could make it easier for the city to clear protesters for good from central Hong Kong over the next few days. That's because the remaining protesters are now much more vulnerable to organized police clearings and—as happened yesterday—to attacks by masked men and Anti-Occupy protesters, who came armed with a crane.
Here's where the main protests have been located since late September (see below).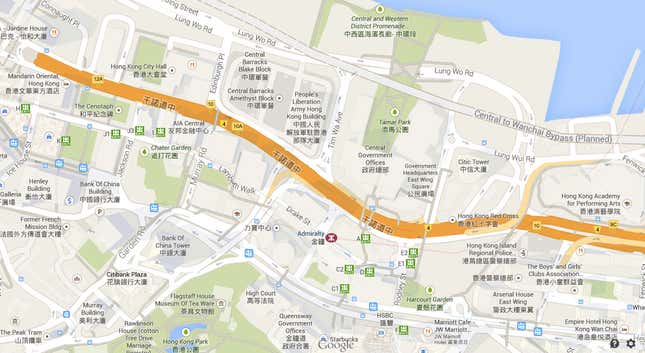 The highway colored in orange (Connaught Road) has been barricaded from the Mandarin Oriental Hotel on the west to past the Hong Kong Academy for the Performing Arts to the east for more than two weeks now, as has Harcourt Road, which runs beside and below it.  Queensway is the large two lane artery to the south of the map below, which is dotted with tram signs. Lung Wo road, closest to Victoria Harbour, has been open to traffic.
Now that traffic is flowing through Queenway, Harcourt and Connaught Roads—the main drag where protesters have been sleeping, eating, hanging signs, and making speeches—is approachable from multiple side streets: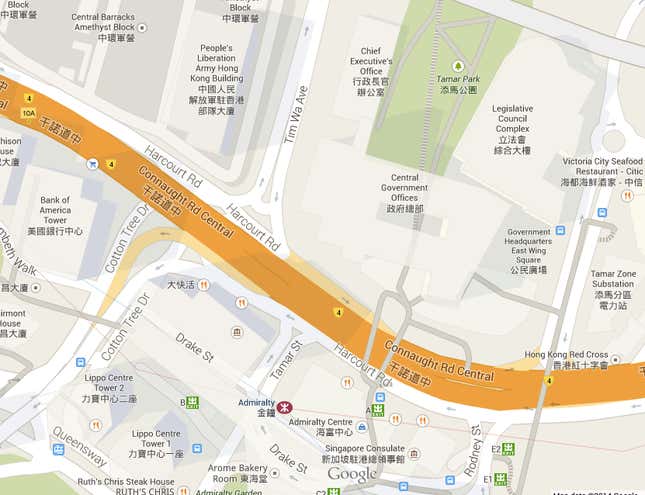 Most of these side streets were being held on Tuesday with thin lines of protesters and makeshift barricades. On Rodney Street, in the southeast corner of the occupied area, a few dozen protesters and police faced off in the hot sun: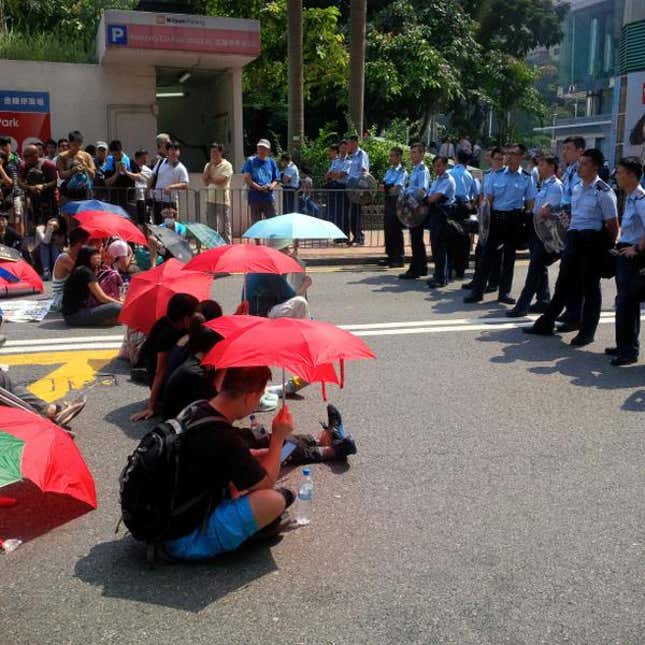 While at Tamar Street, just to the west, a handful of protesters were reinforcing barricades from the remains of old ones that had been pulled down: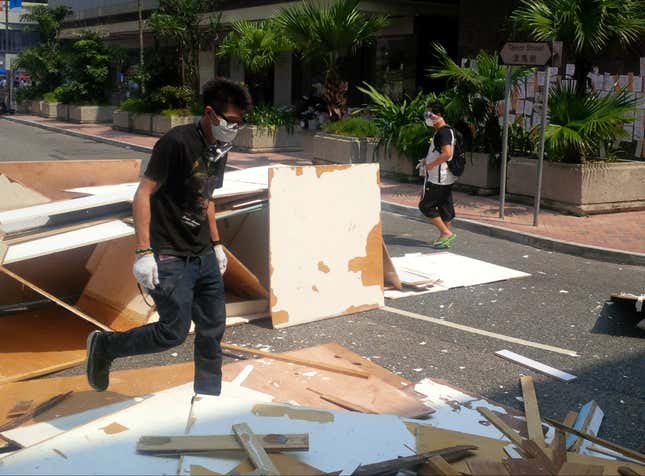 And west of that, on Cotton Tree Drive, there was a thick wall of police in one lane, and a thin line of protesters in another. The main Harcourt/Connaught Road area remains full of tents and protest banners, and hundreds of protesters, tourists and onlookers. But to the north, Tim Wa Avenue had a wall of police in the early afternoon—befitting its location between the People's Liberation Army building and Hong Kong's chief executive's office.
Protesters that remained on the site seemed to vacillate between exhausted and exuberant this afternoon. A fragile-looking Joshua Wong, the leader of the Hong Kong Federation of Students, picked his way carefully through the site, holding the elbow of a young woman and mostly avoiding eye contact. "Police have surrounded the entire area," said Alvin, 23, who stayed at the protest site last night. "Within 48 hours they're going to start something," he predicted, "and its going to be really quick this time."