Netflix neatly summarized its strategy at the beginning of 2013: "The goal is to become HBO before HBO can become us," said Ted Sarandos, who's in charge of acquiring content for Netflix.
Nearly two years later, both companies have come a long way toward that convergence. Today, they had a head-on collision. HBO announced it would start selling internet-only subscriptions, similar to Netflix, in 2015.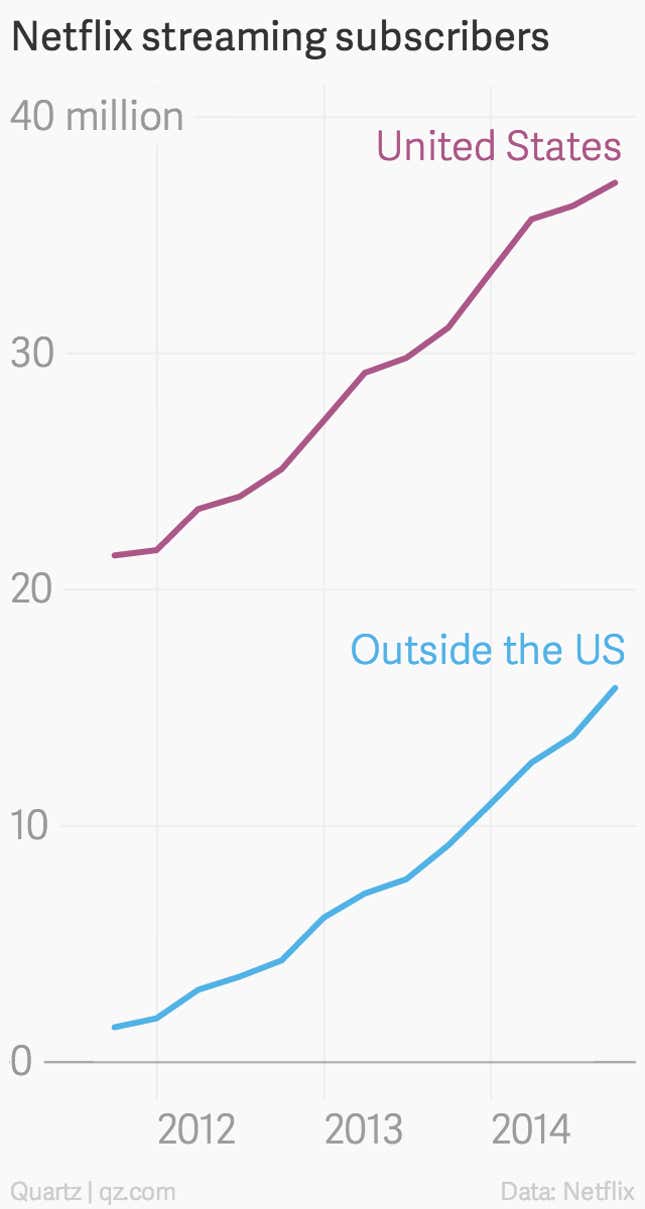 Hours after the HBO announcement, Netflix revealed (pdf) that it added 3 million subscribers to its streaming service last quarter after launching in Germany, France, and other European countries. At the end of September, Netflix had 37.2 million streaming subscribers in the US and 15.8 million in the rest of the world. The numbers reflected strong growth, particularly outside the US, but they were lower than expected, and Netflix shares fell more than 25% in after-hours trading.
Netflix must have scrambled to add comment about the HBO news to its earnings report. This is what it had to say:
Starting back in 2011 we started saying that HBO would be our primary long-term competitor, particularly for content. The competition will drive us both to be better. It was inevitable and sensible that they would eventually offer their service as a standalone application. Many people will subscribe to  both Netflix and HBO since we have different shows, so we think it is likely we both prosper as consumers move to Internet TV.
The two companies didn't always seem like rivals. HBO was conceived as an add-on to cable television and has subsisted that way until now. Netflix began as DVD delivery service—it still has about 6 million of those subscribers—but always aspired to transform the television industry by delivering video over the internet.
Executives at Time Warner, HBO's parent company, bristled when Netflix began calling it a chief rival. Now the comparison seems natural. Netflix has more revenue than HBO, but HBO is more profitable. Earlier this year, Netflix surpassed HBO in subscription revenue.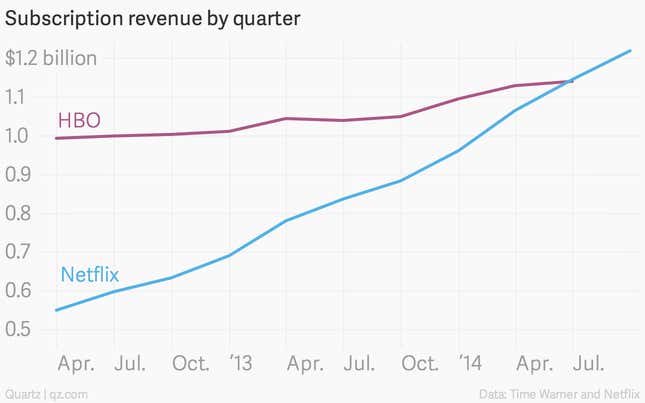 HBO now says it can easily pick up additional revenue in the US from people who don't pay for TV but would subscribe to a standalone HBO package. It's not yet clear how that will affect the rivalry with Netflix. They can certainly coexist, but more heated competition could put pressure on their prices. Netflix blamed its slower-than-expected subscriber growth on its price increased to $9 a month; HBO's internet-only service is likely to cost significantly more than that.
Complicating the matter is the fact that HBO parent Time Warner licenses content to Netflix. Just today, Netflix announced that it acquired the rights to stream Time Warner's hit show Friends.
Correction: A previous version of this piece said that HBO had 46 million subscribers in the US. That number also includes subscribers to Cinemax, which is also owned by Time Warner. HBO alone has about 30 million subscribers in the US.