The numbers: Good. Goldman Sachs said today it earned $2.2 billion in the third quarter, up 48% from the same period a year earlier. Revenues rose 25% to $8.4 billion.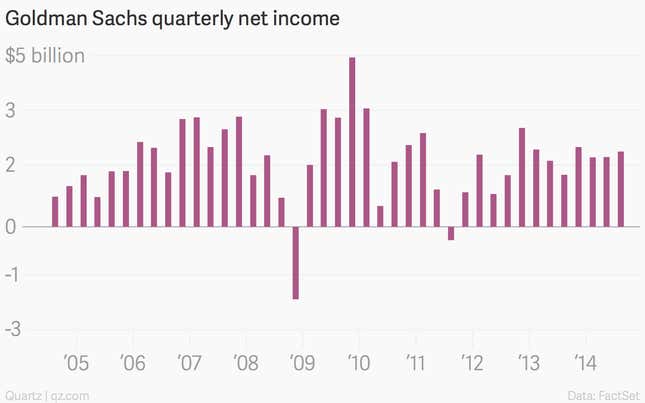 The takeaway: Goldman got its trading mojo back, thanks in part to a resurgence of volatility in bond and currency markets. Revenue from trading fixed-income, currency and commodities – a business that has been declining since 2009 at Goldman and other Wall Street firms – jumped 74% from a year ago, to $2.2 billion.
What's interesting: While rivals such as Morgan Stanley have downplayed the role of trading in recent years, Goldman has continued to emphasize the importance of trading even as a combination of post-financial crisis regulation and a downturn in volatility weighed on results. During the third quarter, that seemed like the right strategy. Trading results rebounded in the third quarter at JPMorgan Chase, Bank of America and Citigroup. But the uptick at Goldman outpaced them all. So have government attempts to tame risk-taking in the financial sector had any effect at all? Yes, actually. Even at Goldman, fixed-income trading accounted for roughly 26% revenue in the latest quarter compared with about 48% of annual revenues in 2009.