This item has been corrected. 
Last week, earnings from Google, one of the biggest and most important companies in Silicon Valley, slipped by without much fanfare; the news was buried in headlines about convulsing financial markets, new Apple gadgets, and Ebola.
But if there's one thing to pay attention to in the performance of sprawling Google, it's the company's sleeping giant: YouTube. "We're just getting started with YouTube and its potential" Omid Kordestani, Google's chief business officer said during its conference call, before revealing the video upload site had secured major advertising commitments from the five biggest digital advertising agencies in the US, and major brands such as Coke and General Motors.
Google does not currently break out the financial performance for YouTube but analysts at Bernstein Research recently said they think it could generate $7 billion in revenue in 2015, and become a $30 billion a business in the next few years. Compare that to Google as a whole, which last year raked in $33.9 billion in total revenue, minus commissions to traffic partners, according to FactSet.
Their reasoning is simple. YouTube is responsible for about 40% of online video consumption,  which is surging. And yet,  as the below chart from Jefferies shows, relative to other forms of advertising (online and traditional) online video has a long way to run.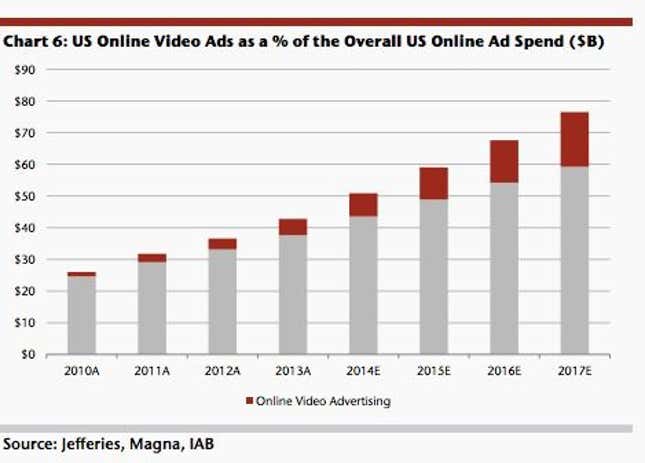 Since Google can target and measure video ads more effectively than other forms of advertising (including TV) the company could conceivably double its ad rates for video without much pushback.
"YouTube ads (and online video ads) are improving significantly every day across many dimensions, while alternative media available for brand advertisers are not," Bernstein analyst Carlos Kirjner wrote. "YouTube is still under-appreciated by consensus, as well as is its future impact on the world of brand advertising."
YouTube will have to compete with Facebook's huge push into online video. But that shouldn't hold it back; it has a big head start in an explosive market. For the record, Facebook says it gets 1 billion video views per day. YouTube had 4 billion views per day back in 2012, and has grown significantly since then.
Its audience could get another boost from its informal streaming music service, now the largest in the world, both in terms of streams per month and monthly users. It's doubling down on that with a subscription-based audio product expected in the coming months.
All this makes the $1.65 billion Google paid to buy YouTube in 2006 seem like a killer bargain.
Correction (Oct 22): This post has been updated to attribute the analysis to Bernstein Research, not Jefferies.