Amazon just posted results for the third quarter, and it's safe to assume they won't alter anyone's opinion about the company. Revenue was up strongly, rising 20% from the same quarter last year to $20.6 billion. The bottom line was a net loss of $437 million, which was worse than what analysts expected (and the deepest quarterly loss for Amazon in 14 years, according to data from FactSet). The shares have fallen by about 11% in after-hours trading.
Strong revenue growth and an absence of profit is nothing new for the online retail giant. In fact, in many ways this feels like the standard Amazon quarter.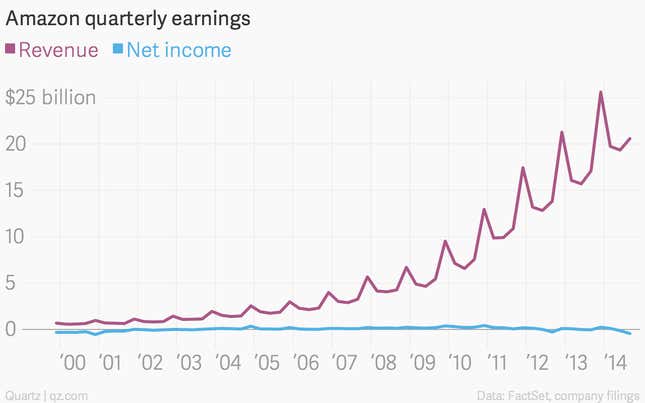 The picture looks similar on an annual basis (with the spikes during each holiday quarter smoothed out).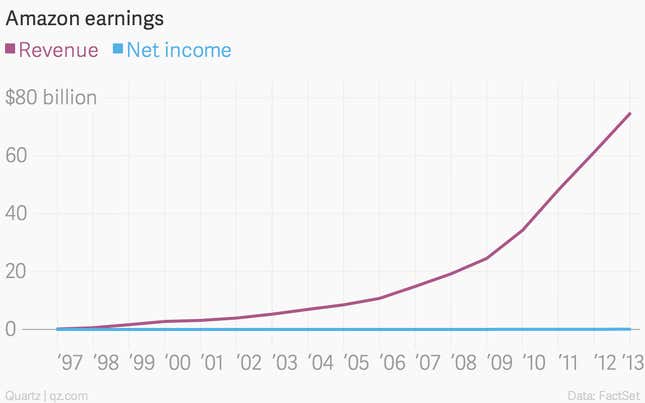 The company's notorious post-profit business model has long divided investors. Some argue that its consistent lack of profits means it is an enormous ponzi scheme. Others argue that CEO Jeff Bezos is deliberately managing the company's earnings to zero, reinvesting the company's huge cashflows to in low retail prices to drive customer loyalty, and to build out the infrastructure that will enable it to completely dominate consumer purchasing in the future.
Perhaps the best way to think about what's going on came from Andressen Horowitz partner Ben Evans earlier this year (worth reading in full) He wrote:
The question to ask isn't whether Amazon is some profitless ponzi scheme, but whether you believe Bezos can capture the future. That, and how long are you willing to wait?
Amazon has never been valued on its profits, like most established companies are. And a lack of profit hasn't stopped investors driving shares up by more than 15,000% since its 1997 IPO. But Amazon shares are already down more than 20% this year, making them one of the poorest performers in the Standard&Poor's 500 Index for 2014.