No technology company will spend more on research and development this year than Samsung. In fact, the electronics maker will outspend every company in the world except for Volkswagen, the top R&D spender for the third year running, according to consulting firm Strategy&.
Samsung's sheer size—it's forecast to book $209 billion in revenue this year—allows it to spend a great deal of money. And its breadth compels it to. In addition to shipping more smartphones than anyone else (and feeling the pressure from eager competitors), the company dominates the television market, manufactures many of the components that it and other electronic makers use, and is aggressively moving into new personal technology categories like smartwatches.
Samsung has been helped along in its development endeavors by its extremely pro-R&D home country. Korea spends more than any other developed country on R&D and provides large subsidies for it.
Here's the changing R&D league table in the tech and software industry: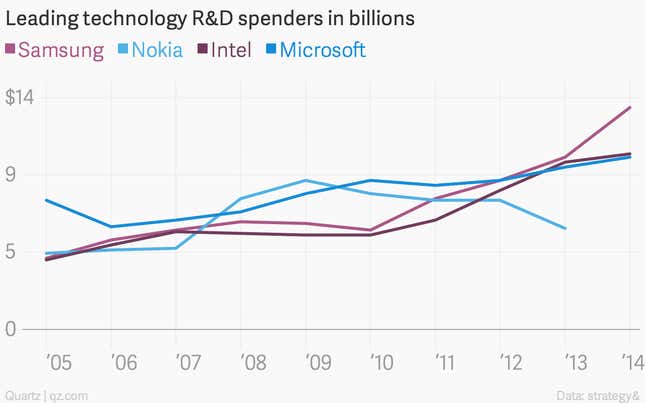 Though Samsung has been steadily increasing its R&D spend, it still manages to be fairly conservative overall, spending about the same percentage in terms of total sales each year, around 6%. It's a lot easier to pour more cash into R&D when a lot is coming in to the company, and Samsung seems to be pretty efficient and disciplined about it: