US consumer confidence hit a new post-crisis high in October, according the Conference Board.
The October reading of Conference Board's consumer confidence index was just a touch higher than August's reading, which was the previous high-water mark for US consumer sentiment in recent years. In fact, the Conference Board's reading on US consumer confidence is now the highest it has been since October 2007.
Of course, US consumer confidence remains below the levels seen in the years preceding the crisis, and is an especially far cry from the sunny mood that prevailed during the dot-com bubble-fueled go-go years of the late 1990s.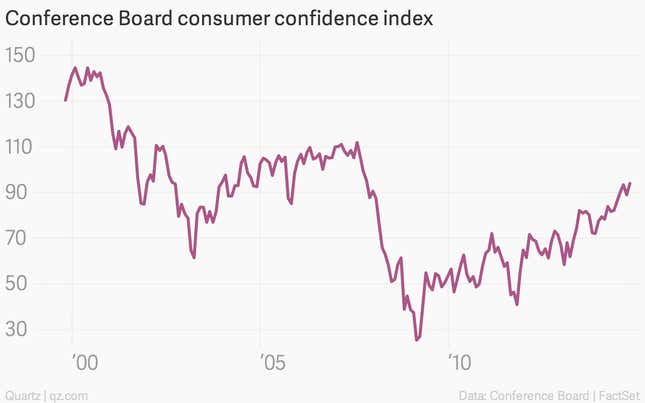 The recovery in the numbers now shouldn't be a surprise. Plenty of folks out there will complain that the US economy is getting weaker, but the overwhelming weight of evidence points to a US economy that is gaining more and more momentum.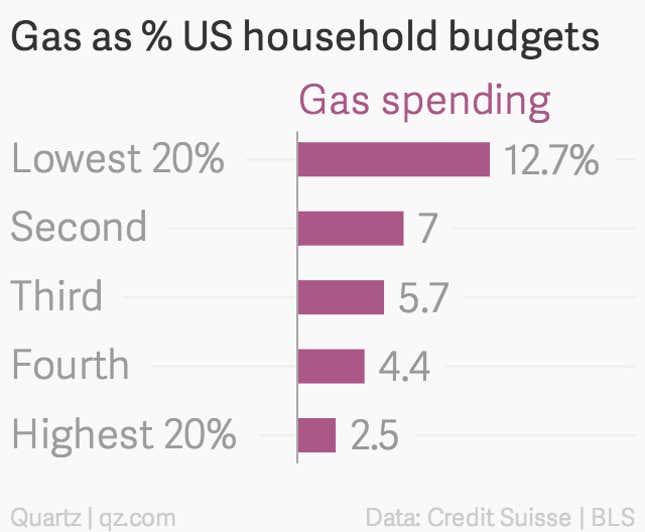 Increasingly, there are indications that US consumers actually could be seeing their lot improve—somewhat. Falling US gas prices (they're at four-year lows now) will be an especially important boon for low-income Americans, who have had their spending power crimped by cuts to US food stamp and emergency unemployment benefit programs. (Credit Suisse analysts say that gasoline purchases account for roughly 13% of the household budget of lowest-earning 20% of Americans.) Those pressures have been hammering the earnings of companies—such as Wal-Mart and dollar stores—that cater to less-affluent segments of American society. We'll see next quarter whether these companies, like consumers, make out any better with the lowering of prices at the pump.