For all practical purposes, the Russian ruble is now on its own. The central bank has been dropping hints that its appetite for propping up the crumbling currency is waning, and today it made it official.
From today, the Bank of Russia will limit its interventions in the currency market to $350 million per day. That is a pretty hefty sum, but nowhere near as much as it's spent over the past few weeks, to say nothing of the tens of billions it burned earlier this year, in the run-up to Russia's annexation of Crimea: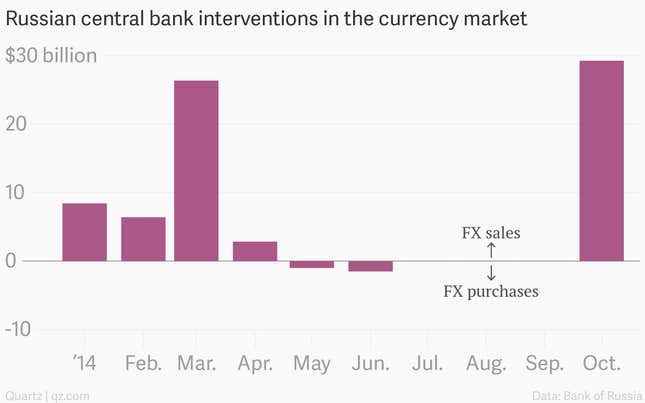 Selling its foreign-currency reserves and jacking up interest rates hasn't done much to halt the ruble's slide—only the Ukrainian hryvnia and Ghanaian cedi have fallen further against the dollar this year, hardly the company that the Kremlin's economic officials will be proud to keep. The ruble's weakness reflects the Russian economy's increasing isolation thanks to Western sanctions and the brutal effects of falling oil prices on the government's battered budget.
The central bank says it could go back to unlimited interventions "in case of financial stability threats," but the markets aren't taking that threat too seriously—the currency lost another 3% against the dollar today, reaching yet another record level.
We've covered the ruble's slow-motion collapse in great detail over the past year, but there are two key charts that go a long way to explaining why Russia is letting its currency float freely now, even though it is under such intense selling pressure:
1) A cushion for capital flight
Although it has a hefty $400 billion in foreign reserves, Russia is keen to husband its stores of dollars, euros, and other currencies to shield itself from the steady flight of capital from the country. Instead of spending its reserves to defend an arbitrary ruble value, the central bank wants to keep a cushion to cover the huge transfers of ruble assets abroad—the IMF estimates that this will reach $100 billion this year and "remain high" next year: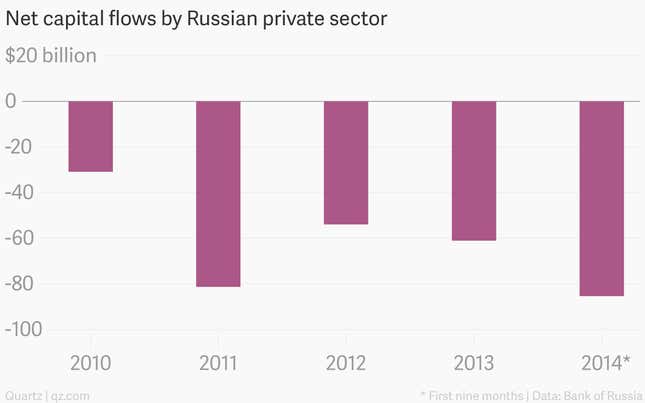 2) Alleviating lower oil prices
And then there is the oil price. Russia's latest government budget is based on $100-a-barrel oil, well above the $84 or so that a barrel of Brent crude fetches today. But when it converts dollar-based oil sales into rubles, Russia is making about the same per barrel today (at $84 per barrel and nearly 45 rubles to the dollar) as it did at the beginning of the year (at $110 per barrel and 33 rubles to the greenback):