Central bankers do not envy Elvira Nabiullina. The governor of Russia's central bank must devise policies to deal with a collapsing currency, soaring inflation, and stagnant economic growth. Western sanctions have shut out banks, energy firms, and other important players from global capital markets. And now oil prices are plunging, putting a dent in the government's primary source of income.
The Russian economy's woes have been reflected by the ruble, which has lost nearly a quarter of its value against dollar so far this year. The decline has helped dampen the impact of falling energy prices, but also stoked inflation. To prop up the ruble, the central bank has spent more than $26 billion of its foreign-exchange reserves in this month alone.
To conserve this cash to support the economy stung by sanctions, the central bank wants to let the ruble float freely next year, steering its monetary policy exclusively via interest rates instead of burning its reserves defending exchange-rate targets. Given the recent rout in the ruble, traders were expecting the bank to hike rates at its board meeting today, bidding up the currency sharply in anticipation: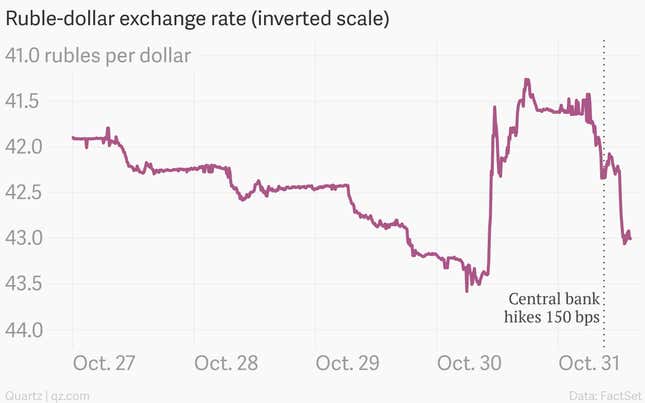 Nabiullina delivered, jacking up the repo rate from 8% to 9.5%, a much bigger rise than expected. But the ruble rallied for about five minutes before promptly resuming its decline. At the time of writing it's more or less back where it was before yesterday's rally.
The central bank's announcement betrayed some indecision—a function of the tricky line that Nabiullina must walk— suggesting that it would be keen to reverse course and "start monetary policy easing" as soon as signs of lower inflation emerged. Steen Jakobsen, chief economist at Saxo Bank in Copenhagen, reckons that the ruble would need to drop another 10% against the dollar before he would consider the risk-reward proposition attractive.
"Whatever initiative [the central bank] has to support the currency in the short term, it will only just smooth out the ride down as long as capital continues to flow out," he tells Quartz. The Kremlin is cracking down on its citizens' corporate and personal wealth stashed abroad, but most expect money to continue to flow out of the country at a rapid clip (some $85 billion so far this year).
The combination of rising inflation, higher borrowing costs, and weak economic growth is "hollowing out Russians' disposable income," Jakobsen says. He's a frequent traveler for business and, unusually, last week the London-to-Moscow flight normally packed with businesspeople mulling deals and shoppers laden with luxury goods was only a quarter full. "The flight was half empty, the airport was half empty, the shops were half empty. That will have ramifications."