Xiaolu Yang and her staff of 29 at LeSportsac China have been working seven days a week for a month, taking photos, building up inventory, testing their website, and smoothing over logistics ahead of China's massive online shopping holiday, Singles Day, which begins on Nov. 11 at midnight.
After it's all over, the team might have a dinner or some other "team building activity," Yang, head of marketing and e-commerce for LeSportsac China, told Quartz. But mostly their reward will be the mere fact of having survived an expensive and anxiety-ridden day that has become crucial to China's fast-growing e-commerce sector.
Every year Chinese retailers selling everything from clothes and electronics to real estate have to decide whether or not to participate in Alibaba's Singles Day event, an extravaganza of online shopping that began as an anti-Valentine's Day and now dwarfs America's Black Friday and Cyber Monday combined. This year, 27,000 merchants will participate, hoping for a slice of the enormous pie; $5.8 billion in merchandise was sold last year.
But Singles Day can sometimes hurt a retailer more than it helps, especially as heavy discounts take their toll on profit margins. Companies like Elle, a handbag and luggage store, have come to depend on the shopping holiday for as much as 15% of their annual online sales. "So I'm very nervous," said CEO Brian Lee, admitting that in the past he had offered discounts that were too steep.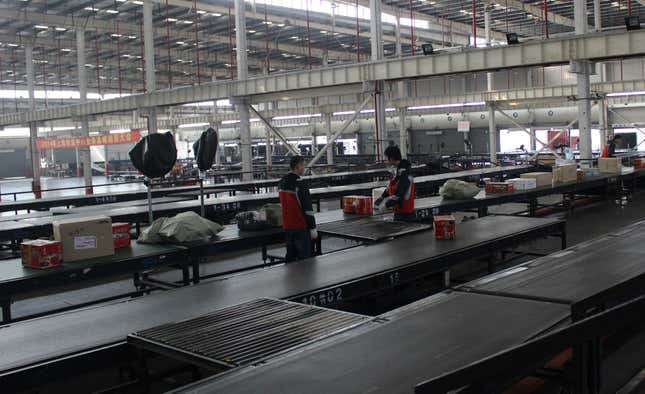 Alibaba charges a commission of between 3% and 5% to participate in Singles Day, depending on whether merchants are using its Tmall or Taobao platforms. But that's just the beginning: advertising on Alibaba's platforms does not come cheap, and merchants also have to splash on marketing, extra staffing, and other costs. Retailers also suffer in the lead up to Singles Day: two weeks before the holiday, merchants say that both online and offline sales drop off as customers wait for 11/11 discounts, which are usually around 50%.
Both Elle and LeSportsac have hired third party companies to come run their marketing and help with logistics. YTO Express, one of Alibaba's delivery partners, said it has hired an extra 30,000 workers, rented an extra fleet of trucks, and staffed more than 40 additional processing centers.
Advertising costs Elle as much as 30% of its annual marketing and advertising budget, most of which goes to Alibaba and social media platforms for the season leading up to Singles Day. For LeSportsac, the marketing budget for Singles Day is the equivalent to about 10% of annual sales.
Despite all of the headaches and costs, a successful Single's Day translates into new customers and brand awareness. Elle normally gets about 200 orders a day but for singles day they expect about 25,000. "It's a great way to acquire new business because of all the traffic," Lee said.
Last year, LeSportsac sold 5.6 million yuan ($915,000) worth of goods on Nov. 11, or about 5% of its annual sales. Maintaining brand awareness on Tmall is essential for LeSportsac, Yang says, because the platform accounts for almost a third of the brand's China sales.
Some worry the hype surrounding Singles Day will fade and consumers will grow tired of the bottlenecks, delays, and online scrambles.
"I think people might get used to it and there may be less interest than there is today," Lee said.